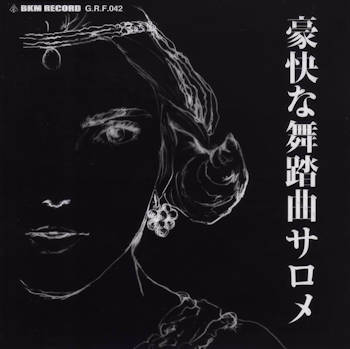 © 2020 Lawrence Tuczynski
All info courtesy of Sam Scali. Thanks Sam!
English Title:
GOUKAI NA Ballet "Salome"
CD Label:
BKM
CD Number:
G.R.F.042
Music Performed by:
Bukimisha Weird Secret Society
Takeo Yahiro & Friends
Number of tracks:
7
Running time:
41:24
Number of discs:
1
Year of release/manufacture:
December 28, 2019
REVIEW

August 02, 2020

G.R.F.042 will possibly be reviewed at a later date.

Go to http://www.bukimi.com/maal or email Takeo Yahiro (yah@bukimi.com) for more information.
(Translations courtesy of Sam Scali)
I: Prelude
II: Dance of the Ladies-in-waiting
III: Grand Departure of King Herod & Queen Herodeas
IV: Salome Enters & Talks with The King
V: Dance of the Seven Veils
VI: Silent Drama
VII: Madness & Death