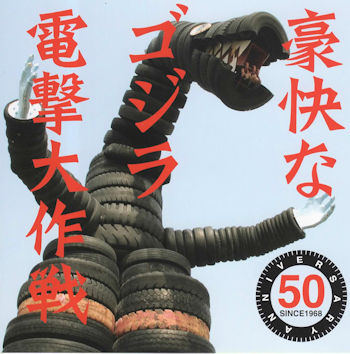 © 2020 Lawrence Tuczynski
All info courtesy of Sam Scali. Thanks Sam!
English Title:
GOUKAI NA Destroy All Monsters
CD Label:
BKM
CD Number:
G.R.F.50A9
Music Performed by:
Bukimisha Weird Secret Society
Takeo Yahiro & Friends
Number of tracks:
34 (2 hidden)
Running time:
71:04
Number of discs:
1
Year of release/manufacture:
October 27, 2019
REVIEW

July 31, 2020

G.R.F.50A9 will possibly be reviewed at a later date.

50th Anniversary a cappella recording of the complete film score to DESTROY ALL MONSTERS (1968)

Go to http://www.bukimi.com/maal or email Takeo Yahiro (yah@bukimi.com) for more information.
(Translations courtesy of Sam Scali)
Spoken Introduction
The Toho Mark/Main Title
Title Credits
Monster Land
The Lunar Base I
Unusual Change on Monster Island
The Lunar Base II
SY-3
The Unmanned Subterranean Center
The Kilaak Starmen I
Escape from Monster Land
The Unknown Metal
Discovery of the Monster Controls
Radon Comes Flying
The 4 Monsters Attack Tokyo
The Missile War to Protect the Capital
Ruins
Godzilla/Angilas vs. The Defense Corps
Radon in Pursuit
The Kilaak Starmen II
The Lunar Base and SY-3
SY-3 Sortie
The Expedition Vehicle Breaks Through
The Kilaaks' Essence
Remote Control Destruction!
The Monsters Pow-wow on Earth
Major Battle at Fuji I
Major Battle at Fuji II
Destruction of the Subterranean Dome
Fire Dragon Pursuit
Ending
Spoken Japanese dialogue backed by a cappella music and vocal sound effects
[Hidden track: brief reprise of key musical themes]
[Hidden track: 29+ minutes of silence followed by brief passage of Japanese dialogue over a cappella music]