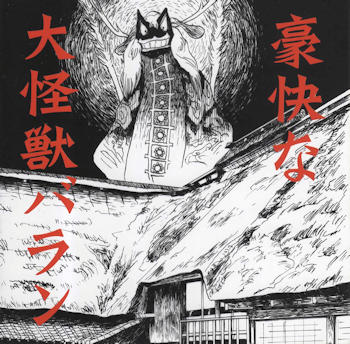 © 2020 Lawrence Tuczynski
All info courtesy of Sam Scali. Thanks Sam!
English Title:
GOUKAI NA Varan the Unbelievable
CD Label:
BKM
CD Number:
G.R.F.60A4
Music Performed by:
Bukimisha Weird Secret Society
Takeo Yahiro & Friends
Number of tracks:
32 (1 hidden)
Running time:
73:34
Number of discs:
1
Year of release/manufacture:
April 28, 2019
REVIEW

July 29, 2020

G.R.F.60A4 will possibly be reviewed at a later date.

60th Anniversary a cappella recording of the complete film score to VARAN THE UNBELIEVABLE (1958)

Go to http://www.bukimi.com/maal or email Takeo Yahiro (yah@bukimi.com) for more information.
(Translations courtesy of Sam Scali)
Spoken Introduction
Main Title
Mystery Of The 20th Century
Iwadani Village
The Anger Of Baradagi
Baradagi, God Of The Mountains
Fierceness Of Varan
Cannon Shot Towards The Lake
Fierceness Of Varan II
Varan Flies
Fishing Boat Disaster
Varan vs. Fighter-Bomber 'Neptune'
Varan vs. Destroyer "Uranami" A
Varan vs. Destroyer "Uranami" B
Fierce Battle Begins
Self Defense Forces Tank Takes Action
Varan Lands at Haneda Airport
Special Dynamite
Rebirth Of Varan
Ending
Main Title (TV version)
Rockets and Eastern Monsters (TV version)
The Self Defense Forces to Iwadani Village (TV version)
The Lake of Varan (TV version)
Varan's Fierceness (TV version)
The Self Defense Forces Retreat (TV version)
Tokyo's Citizens Ordered To Evacuate (TV version)
Counter Attack Ordered Against Varan (TV version)
Transport Of Special Dynamite (TV version)
Ending (TV version)
Spoken Japanese dialogue backed by a cappella music and vocal sound effects
[Hidden track - approx. 17+ minutes of the "Baradagi" chant, followed by a few lines of Japanese dialogue]