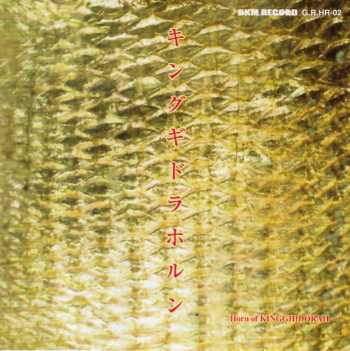 © 2015 Lawrence Tuczynski
Title:
Horn Of King Ghidorah
CD Label:
BKM
CD Number:
G.R.HR-02
Music by:
Akira Ifukube
Music Performed by:
Weird King Ghidorah Horn Ensemble, featuring Hiroshi Onuki
(Arrangement by Takeo Yahiro)
Number of tracks:
4
Running time:
39:59
Number of discs:
1
Year of release/manufacture:
December 30, 2014
REVIEW

April 06, 2015

Compared to other CD releases by The Bukimisha Weird Secret Society this CD is quite different. First of all there are no hidden tracks on this CD. Second, there is no a cappella singing. Instead the CD is comprised of orchestral music that relies heavily on various horns as the title "Horn Of King Ghidorah" might suggest. The four tracks here are actually suites of music comprised of music found in various movies that King Ghidorah (aka King Ghidrah) appeared in as can be seen in the title translations below.

Also visit his website at: http://www.bukimi.com/maal/
Having this music done "a cappella" is just amazing to hear and very well done.
Horn Of King Ghidorah
Track translations courtesy of Jolyon Yates
I Advent
Omen (Ghidorah the 3-Headed Monster M5)
Transcendence (Ghidorah the 3-Headed Monster M15)
Havoc (King Kong vs Godzilla M19)
Alarm (Ghidorah the 3-Headed Monster M13)
Inferno (Ghidorah the 3-Headed Monster M12)
Disaster (Mitsubishi Future Hall M2)
II March
Interception (Destroy All Monsters M1)
Attack (Mothra vs Godzilla M23)
Close Quarter Attack (Ghidorah the 3-Headed Monster M21) [Hakugeki also translates as 'mortar']
Lightning Strike (Invasion of Astro Monster M22) [Raigeki also translates as 'torpedo attack']
Attack (Invasion of Astro Monster M16)
Blitz (Destroy All Monsters M24)
III Abyss
From the Sky (Battle In Outer Space M15)
From Evil (Ghidorah the 3-Headed Monster M6)
From Far Away (Destroy All Monsters M9) [Yu usually means 'leisure' but I went with the original meaning of 'remoteness']
From Nothing (Invasion of Astro Monster M6)
From Darkness (Invasion of Astro Monster M12)
From Time (Godzilla vs King Ghidorah M11)
From the Gods (Destroy All Monsters M26)
From A Vision (Godzilla vs King Ghidorah M10)
IV Showdown
Natural (Godzilla vs King Ghidorah M1A)
From A Thunderclap (Godzilla vs King Ghidorah M1B)
Ablaze (Godzilla vs King Ghidorah M1C) [Guren is a Crimson Lotus but is used in expressions of fire]
Of A Bared Sword (Godzilla vs King Ghidorah M21)
Red Hot (Mitsubishi Future Hall M3)
Golden (Godzilla vs King Ghidorah M18)
Jet Black (Godzilla vs King Ghidorah M38)