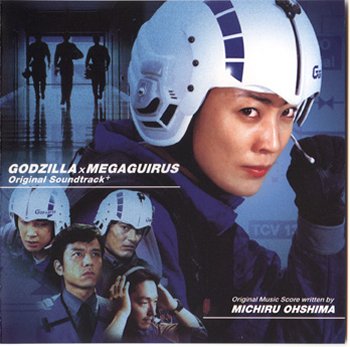 © 2001 Lawrence Tuczynski
Title:
GODZILLA Vs. MEGAGUIRUS
Japanese Title:
Gojira X Megagirasu
CD Label:
Toho
CD Number:
Toho NCS-261
(Available ONLY in 3-disc DVD Box Set TDV2609D)
Music by:
Michiru Ohshima
Number of tracks:
50
Running time:
60:09
Number of discs:
1
Year of release/manufacture:
2001
Year movie released in Japan:
Dec. 2000
Year movie released in US:
Not released in the U.S.
REVIEW

September 23, 2001

Great sounding CD with some additional tracks not on the Japanese and US Soundtrack releases. The music from the previous CDís is here and while the extra tracks on this CD are nice to have, they are not essential. None of the extra tracks jumped out at me and struck me as a must have and most are very short, running 30 seconds or less. Itís an enjoyable CD but remember that it is part of a Japanese DVD box set and not sold separately so if you want it, youíre going to spend a lot for it plus in order to watch the DVDís you need a region free player or a player that will play Japanese DVDís witch I believe are coded as Region 2.


English Title:	GODZILLA Vs. MEGAGUIRUS Original Soundtrack Plus 
Japanese Title:	Gojira X Megagirasu

* NOTE: (Available ONLY in 3-disc DVD Box Set TDV2609D) 

Italic Titles - Not Included or Still Unreleased 
CAP TITLES - Previously Unreleased Tracks 
  

 M00 Newsreel Theme 
 M01 The Fury of Godzilla  (Akira Ifukube) 
 1) M02 1966 ASSAULT - JAPAN CONVERTS TO CLEAN ENERGY 
 2) M03 Fateful Confrontation 
 3) M04 Main Title 
 4) M05 To the G Countermeasure HQ 
 5) M06 Operation Area 
 6) M07 FLASHBACK 
 7) M08 SIGHTING LOST 
 8) M09 The G Annihilation Strategy Commences 
 9) M10 FIRE THE CANNON!  
10) M11 (UNUSED CUE) TERROR IN THE NIGHT  
11) M12 The Ominous Gigantic Egg 
12) M13 DUMPING THE EGG INTO THE SEWER  
13) M14 Tragedy 
14) M15 THE EGG DIVIDES  
15) M16 The Revived Ancient Insect 
16) M17 (UNUSED CUE) THE GIANT FLYING INSECT  
17) M18 Kiriko and the Boy 
18) M19 GODZILLA AND MEGANURON SIGHTING  
19) M20 Griffon Sallies Forth 
20) M21 G Proximity 
21) M22 DIMENSION TIDE SATELLITE  
22) M23 BOATS  
23) M24 The Street Becomes A Lake 
24) M25 Godzilla vs. the Griffon 
25) M26 Meganura - The Great Plague 
26) M27 The Dimension Tide Maneuver 
27) M28 The Ferocious Lifeform 
28) M29 DIMENSION TIDE FIRE!  
29) M30 GODZILLA LIVES!  
30) M31 Painful Lifeís Work 
31) M32 Hyperflight Dragon - Birth 
32) M33 HYPERSOUNDWAVES  
33) M34 THEORIES ON MEGAGUIRUS  
34) M35 EVACUATING TOKYO  
    M35A The Decision of Godzilla  (Akira Ifukube)
35) M36 The Ultimate Battle Appearance 
36) M37 REPRISE M22 - DIMENSION TIDE READY  
37) M38A (UNUSED CUE) A HEAVY BLOW 1  
38) M38B (UNUSED CUE) A HEAVY BLOW 2  
39) M39 DIMENSION TIDE FAILS - GRIFFONíS HARD LANDING  
40) M40 Godzilla X Megaguirus 
41) M41 GODZILLA RISES FROM THE RUBBLE  
42) M42 Suicidal Counterattack 
43) M43 Earthís Greatest Deathmatch 
44) M44 Dimension Tideís Limit 
45) M45 Kirikoís Decision 
46) M46 Black Hole Cannon - Explosion 
47) M47 Itís All Over 
48) M48A KIRIKO  
49) M48B (UNUSED CUE) KIRIKO 
50) M48 Ending Theme