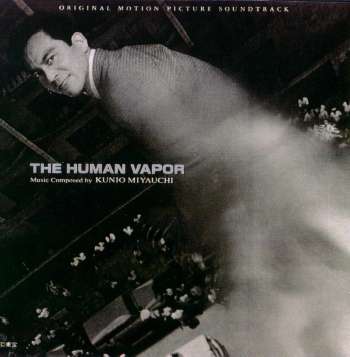 © 1999 Lawrence Tuczynski
| | |
| --- | --- |
| Title | The Human Vapor |
| Japanese Title | Gasu ningen daiichigo |
| Movie also known as: | The First Gas Human |
| CD Label | SLCS Japan |
| CD Number | SLCS-5067 |
| Music by: | Kunio Miyauchi |
| Number of tracks | 36 |
| Running time | 55:38 |
| Number of discs | 1 |
| Year of release/manufacture | 1995 |
| Year Movie Released in Japan | 1960 |
| Year Movie Released in U.S. | 1964 |
REVIEW

October 18,1999

Just relistened to this CD so thought it would be a good time to add a review.

Hmmm...Where to start. This CD is a good stand alone listening experience but there is such a wide mix of musical styles in these tracks that it is really hard to describe. First of all I have never had the opportunity to see this movie. However with what I've read about the movie it would seem that the music here probably suits the movie very well.

There are 36 tracks here and almost that many styles of music. Some of the tracks sound as if they belong in a 50's TV action show like the U.S. Superman TV shows. There are some tracks that sound like they are Jazz influenced and others that sound like night club Big Band music. We also get some music that sounds as if it was inspired by Bernard Herrmann's music for Alfred Hitchcock's "Psycho". On top of that we have several tracks that sound like old, traditional Japanese tunes that reminded me of the music in Akira Kurosawa's "Ran". See, I told you this would be hard to describe. With all these different styles the CD still comes off as a very listenable and enjoyable CD. It's very difficult to find this CD but if you run across it you might want to pick it up. It definitely has a different feel and style than Akira Ifukube's Godzilla music, but different in a good way.

3 title translations updated courtesy of August Ragone - 10-21-99

U.S. Title:      The Human Vapor
Japanese Title:  Gasu ningen daiichigo

 1	Main Title
 2	In Pursuit Along the Itsukaichi Highway
 3	The Beauty with the Devil's Mask
 4	Dragon (1)
 5	Stark Terror at the Mikuni Bank
 6	Crime Wave
 7	Solo Investigation
 8	The Shadow
 9	Fujichiyo's Secret
10	The Kyodo Bank
11	Concentration of Incidents
12	Dragon (2)
13	House Search
14	The Man Who Turned Himself In
15	The Appearance of the Human Vapor
16	The Human Vapor's Declaration
17	Horror of the Human Vapor (1)
18	Fujichiyo and the Human Vapor (1)
19	Kasuga's Ties (Fujichiyo's last name)
20	The Human Vapor On Its Way
21	Dr. Sano
22	240 Hours
23	The Birth of the Human Vapor
24	Desperation and Hope
25	The Immortal Human Vapor
26	Fujichiyo and the Human Vapor (2)
27	Fujichiyo's Thoughts
28	Demon of Emotion (1)
29	Horror of the Human Vapor (2)
30	The Rules of the Demon of Emotion
31	Demon of Emotion (2)
32	The Moment Approaches
33	Ending
34	Demon of Emotion  (1)  EX
35	Demon of Emotion (2)  EX1
36	Demon of Emotion (2)  EX2