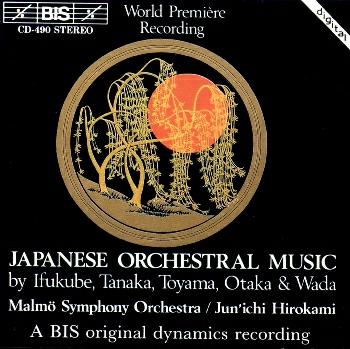 © 1999 Lawrence Tuczynski
Title
Japanese Orchestral Music
CD Label
BIS
CD Number
BIS-CD-490
Music Composed by:
Akira Ifukube
Karen Tanaka
Yuzo Toyama
Atsutada Otaka
Kaoru Wada
Music by:
Malmo Symphony Orchestra
Conducted by:
Jun'ichi Hirokami
Number of tracks
10
Running time
69:37
Number of discs
1
Year of release/manufacture
1990
(made in Austria)
REVIEW



Only the first two tracks on this CD were composed by Akira Ifukube.
Track 3 is by Karen Tanaka, Track 4 by Yuzo Toyama, Track 5 by
Atsutada Otaka and Tracks 6-10 by Kaoru Wada.

I enjoyed all the tracks on this CD but I must admit I found the
non Ifukube tracks to be more captivating. While none of these
compositions (to the best of my knowledge) are film music, 
some of them sound as if they'd fit right into an action or
suspense movie. The two Ifukube selections are more classical
sounding, light and airy. 

Overall this CD surprised me by how good it was and how nice of
a listening experience it was. The music here is far removed
from any Godzilla tracks but is a good listen none the less.




	Akira Ifukube

	Ballata Sinfonica (1943)
1.	Prima Ballata. 
2.	Seconda Ballata

	Karen Tanaka

3.	Prismes pour orchestre (1984)

	Yuzo Toyama

4.	Symphonic Poem "Matsura" (1982)

	Atsutada Otaka

5.	Image pour orchestre (1981)

	Kaoru Wada

6. 	I. "Hayashi"
7.	II. "Magouta"
8.	III. "Odori"
9.	IV. "Oiwake"
10.	V. "Dozokuteki-Bukyoku"