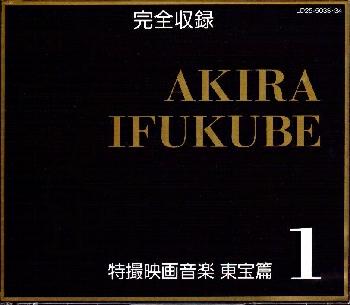 © 2000 Lawrence Tuczynski
Thanks to Reed Grele for the information and images.
Title:
COMPLETE RECORDINGS -
AKIRA IFUKUBE TOHO SFX FILM MUSIC Vol. 1
CD Label:
Futureland
CD Number:
LD25-5033-4
(Rereleased as TYCY-5195~6)
Music by:
Akira Ifukube
Number of tracks:
Disc 1: 35
Disc 2: 31
Running time:
Disc 1: 54:41
Disc 2: 54:09
Number of discs:
2
Year of release/manufacture:
1988
REVIEW

October 24, 2000 (Updated August 22, 2001)

This is a great set and contains the music to three of my favorite movies scored by Akira Ifukube. I just recently was able to get a copy of this 2 CD set. It does contain most of the same music as the single CD sets of Godzilla, Rodan & The Mysterians. You can find reviews of those single CD's elsewhere on this site. If you have the other single CD's, then this set is redundant and not necessary unless you are a completist collector. If you don't have the others and run across this set (either release, LD25-5033-4 or TYCY-5195~6) I'd advise you to grab it.


COMPLETE RECORDINGS - AKIRA IFUKUBE TOHO SFX FILM MUSIC Vol. 1

Track title translations courtesy of Jolyon Yates

Disc 1

GOJIRA

1) Main Title
2) Tread M.E.
3) Sinking of 'The Eiko'
4) Sinking of 'The Bingo'
5) Uneasiness of Odo Island
6) Sacred (Shinto) Music of Odo Island
7) Stormy Odo Island
8) Odo Island Theme
9) Frigate March I
10)Horror of the Water Tank
11)Godzilla Comes Ashore
12)Godzilla's Ferocity
13)Desperate Broadcast
14)Godzilla at Tokyo Bay
15)Intercept Godzilla!
16)Devastation of the Imperial Capital
17)Oxygen Destroyer
18)Prayer for Peace
19)Frigate March II
20)Godzilla in the Ocean Depths
21)Ending

SORA NO DAIKAIJU RADON (SKY MONSTER RADON)

22)Music used for Credits
23)Main Title
24)First Victim
25)Tunnel Tragedy
26)Meganuron Appears
27)Meganuron Horror
28)Meganuron Hunt
29)Cave-in
30)Earthquake
31)Memory Loss
32)Supersonic Pursuit
33)Shadow Across the Sky
34)Radon Birth
35)Great Underground Cavern

Disc 2

(The last ten tracks of the Radon soundtrack)

1)  Radon Appears
2)  Attack Radon!
3)  Radon Flies to Sasebo
4)  Radon and Saikai Bridge
5)  Radon Fukuoka Raid I
6)  Sonic Boom Fury
7)  Radon Fukuoka Raid II
8)  JSDF Goes To Aso
9)  Great Aso's Nature
10) Ending

CHIKYU BOEIGUN (EARTH DEFENCE FORCE) aka THE MYSTERIANS

11) Music used for Credits [when the Toho logo is on screen]
12) Main Title
13) Strange Event
14) Great Collapse
15) Mogera Appears
16) Mogera's Direct Hit
17) Lunar Scientific Development
18) Investigation Team Goes To Mt Fuji
19) Mysterian Dome
20) First Battle
21) Call for International Conference
22) 'Defence Force of the Earth' Meeting
23) 'The Alpha' and 'The Beta'
24) Attack Preparation
25) Abduction
26) 120km Shelter
27) Markalite FAHP
28) Mysterians Strike Back
29) Fierce Electric Artillery Attack
30) Ending
31) Mysterian Departure