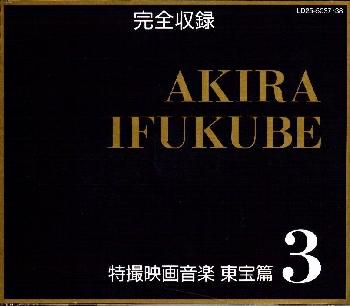 © 2000 Lawrence Tuczynski
Thanks to Reed Grele for the information and images.
Title:
COMPLETE RECORDINGS -
AKIRA IFUKUBE TOHO SFX FILM MUSIC Vol. 3
CD Label:
Futureland
CD Number:
LD25-5037-8
Music by:
Akira Ifukube
Number of tracks:
Disc 1: 33
Disc 2: 45
Running time:
Disc 1: 57:57
Disc 2: 60:53
Number of discs:
2
Year of release/manufacture:
1988
REVIEW

October 24, 2000

This 2 CD set contains most of the same music as the single CD's for "Godzilla vs. Mothra" & "Terror of Mecha-Godzilla". I can't really review the discs because I don't own a copy. However the reviews for the single CD's are located elsewhere on this web site.


COMPLETE RECORDINGS - AKIRA IFUKUBE TOHO SFX FILM MUSIC Vol. 3

Track title translations courtesy of Jolyon Yates

Disc 1

MOSURA TAI GOJIRA (MOTHRA vs GODZILLA)

1)  Music used for Credits
2)  Main Title
3)  Rainbow Object
4)  Clear Seashore's Giant Egg
5)  Giant Egg Drifting Ashore
6)  Shobijin (Little Beauties) Theme
7)  Shobijin Recollection
8)  Mothra on the Hilltop
9)  Mothra Departs
10) Dome Ignition
11) Radioactive Riddle
12) Godzilla Appears
13) Industrial Complex Attack
14) Godzilla and Nagoya
15) Setting Sun Dome
16) Infant Island
17) Devil Purification Ceremony
18) Sacred Spring
19) Mothra's Song
20) Mothra's Departure
21) Godzilla vs Tank Squad
22) Hamakaze (Beach Wind) Hotel Topples
23) Imago Mothra vs Godzilla
24) 'A' Strategy Electric Attack
25) 'B' Strategy Electric Net Attack
26) Mahara Mosura
27) Larvae Mothra Birth
28) Larvae Mothra vs Godzilla
29) Ending
30) Hamakaze Hotel Interior Background Music
31) Sacred Spring (Karaoke)
32) Mahara Mosura (Karaoke)
33) Sacred Spring (Karaoke)

Disc 2

MEKAGOJIRA NO GYAKUSHU (MECHAGODZILLA'S COUNTERATTACK) 
aka TERROR OF MECHAGODZILLA

1)  Music used for Credits
2)  Main Title
3)  'Akatsuki 1' Disaster
4)  Mugar Heads for Earth
5)  Dr Mafune's Past
6)  Woman of the Mafune Family
7)  To Mt Amagi
8)  Mechagodzilla II
9)  Ichinose and Katsura
10) Katsura's Memories
11) Escape from Titanosaurus
12) Ichinose's Tail
13) Titanosaurus Dispatched
14) Titanosaurus Attack
15) Enter Godzilla
16) Cyborg Surgery
17) Mafune Family Tragedy
18) Mechagodzilla II Sortie
19) Mechagodzilla II's Counterattack
20) Godzilla vs Two Giant Monsters
21) Godzilla in Peril
22) Godzilla Resurrection
23) Sharpshooting
24) Katsura's Death
25) Ending

UCHU DAIKAIJU DOGORA
(SPACE MONSTER DOGORA)

26) Music used for Credits
27) Toho Logo ~ Artificial Satellite
28) Main Title
29) Radio Background Music 1
30) Radio Background Music 2
31) Midnight Mystery
32) Safe's Glowing Form
33) Thermo-electric Generator Station's Extraordinary Event
34) Coal Truck Afloat
35) Glowing Thing Appears
36) Headlines
37) Rain of Rocks
38) Great Wakato Bridge and Dogora
39) Dogora Vanished?
40) Dogora Great Multiplication
41) Dogora's Natural Enemy
42) Larval Dogora's Counterattack
43) Flying Attack Begins
44) Victory Blast
45) Ending