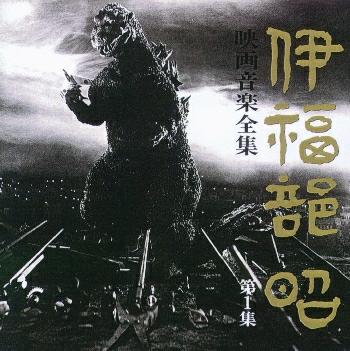 © 1999 Lawrence Tuczynski
| | |
| --- | --- |
| Title | Film Works by Akira Ifukube Vol. 1 |
| CD Label | SLC Inc. |
| CD Number | SLCS-5050 |
| Music by: | Akira Ifukube |
| Number of tracks | 11 |
| Running time | 39:08 |
| Number of discs | 1 |
| Year of release/manufacture | 1994 |
REVIEW

There are ten volumes in the Akira Ifukube Film Works music series. This is volume 1. I really enjoy Ifukube's music and he is responsible for the majority of the Godzilla music we all remember and love. The only track on this CD most of us will recognize is Track # 8 "Godzilla, King Of The Monsters". However the rest of the CD is a wonderful listening experience and makes me wonder what the films this music comes from are like. Unfortunately, here in the US we don't have access to very many Japanese movies and if we could find them it is unlikely they would have English dubbing or subtitles.

Anyway, this is a very enjoyable CD. Track 2 has some actual dialog from the movie. Overall this is a good mix of music, everything from strong marches to slower, more classical sounding pieces.

For a different review of this dic, check out: http://login.artistdirect.com/nad/store/artist/album/0,,2886833,00.html.

Title:	    Film Works by Akira Ifukube Vol. 1
Japanese Title:  Ifukube Akira Eiga Ongaku Zenshu - Dai Isshu

1.	The Outer Reaches of the Snow-Capped Peaks (Japanese Title:  Ginrei No Hate)
(1)	Main Title
(2)	Back to the Mountain Hut
(3)	Ending

2.	Jyakoman *1 and Tetsu *1 (Japanese Title:  Jyakoman To Tetsu)
(1)	Farewell at the Mountain Pass

3.	Children of the Atomic Age *2 (Japanese Title:  Genbaku No Ko)
(1)	Main Title
(2)	Ending

4.	Anatahan *3 (Japanese Title: Anatahan)
(1)	Main Title

5.	Cape Ashizuri *4 (Japanese Title: Ashizuri Misaki)
(1)	Main Title
(2)	Ending

6.	Wolf (Japanese Title: Ookami)
(1)	Main Title

7.	The Tale of Genji *2 (Japanese Title:  Genji Monogatari)
(1)	Main Title
(2)	Ending

8.	Godzilla, King of the Monsters (Japanese Title: Gojira)
(1)	Main Title
(2)	Frigate March
(3)	Godzilla's Wrath
(4)	Ending

9.	Black Belt Sangokushi *5 (Japanese Title: Kuroobi Sangokushi)
(1)	Main Title
(2)	Adagio

10.	Will-o'-the-Wisp *6 (Japanese Title: Onibi)
(1)	Main Title

11.	Double Suicide at Shirogane  (Japanese Title:  Shirogane Shinju)
(1)	Riverbed of Thunder - Ending


*1  These are probably male names.
*2  This is a more accurate translation than the English title shown on the CD jacket.
*3  This is a direct transliteration from the Japanese.  The meaning of this expression is unclear.
*4  This is the name of a promontory off the Island of Shikoku in Japan.
*5  'Sangokushi' is the name of a well-known Chinese history book.
*6  The Japanese word 'onibi' refers to the shifting, elusive light seen over marshes, etc. at night.