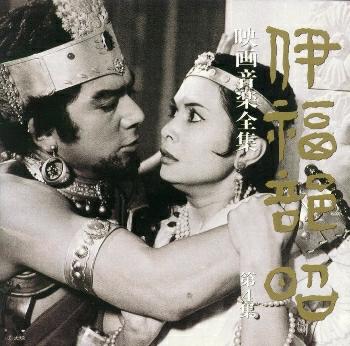 © 1999 Lawrence Tuczynski
| | |
| --- | --- |
| Title | Film Works by Akira Ifukube Vol. 4 |
| CD Label | SLC Inc. |
| CD Number | SLCS-5053 |
| Music by: | Akira Ifukube |
| Number of tracks | 7 |
| Running time | 65:15 |
| Number of discs | 1 |
| Year of release/manufacture | 1995 |
REVIEW

This is number 4 in the Film Works series. This CD has 7 tracks but each of the tracks is like a suite of music with anywhere from 2 to 7 pieces to each track with most having 3 or 4 parts. While much of the music on this CD will be unfamiliar to us in the US since we don't have access to the movies they are from, there are tracks here from "King Kong vs. Godzilla" as well as from "Atragon" which will be familiar. I was also impressed by the amount of actual dialogue from the various movies that is included on this CD. We may not understand the Japanese being spoken but can get much from the way it is spoken and the emphasis being placed on the words.

I really enjoyed this CD and will certainly give it many more plays. I'm looking forward to obtaining and listening to the rest of the series.

English Title:     The Complete Collection of Akira Ifukube's Film Music - Volume #4
Japanese Title:    Ifukube Akira - Eiga Ongaku Zenshu Dai-yon Shu 

1.	Osaka-jo Monogatari  ('Osaka Castle Story') *1
	(1)	Opening - Yodogimi's Wrath
	(2)	Main Title
	(3)	Mohei's Stratagem
	(4)	Ai and Mohei

2.	Sakuma Damu Daisanbu  (Literal Translation: 'Sakuma Dam, Part 3')
	(1)	Main Title - Tenryu Gorge
	(2)	The Sinking Village
	(3)	Construction of the Power Plant
	(4)	Completion - Ending

3.	Futaridake No Hashi  (Literal Translation: 'A Bridge for Two')
	(1)	Main Title
	(2)	The X-Ray Room

4.	King Kong vs. Godzilla  (Japanese title: 'Kingukongu tai Gojira')
	(1)	Main Title
	(2)	Confrontation at Lake Chuzenji
	(3)	The Plan to Transport King Kong
	(4)	Ending

5.	Buddha  (Japanese title: 'Shaka')
	(1)	Main Title
	(2)	Kapira Castle - Entering the Priesthood
	(3)	Asceticism and Enlightenment
	(4)	Prince Kunara *2
	(5)	Daiva *2 and Prince Ajase *2
	(6)	Threads of Mercy
	(7)	Nirvana - Ending

6.	Downtown  (Japanese title:  'Shitamachi')
	(1)	Lunch for Three
	(2)	Tamae Alone

7.	Atragon  (Japanese title: 'Kaitei Gunkan')
	(1)	Opening - Main Title
	(2)	Test Driving Atragon
	(3)	The Marunouchi Sinks - Atragon vs. Manda 

*1 This is the IMDB translation.  Personally, I prefer the translation:  'The Tale of Osaka Castle'.
*2  This is a direct transliteration from the Japanese.