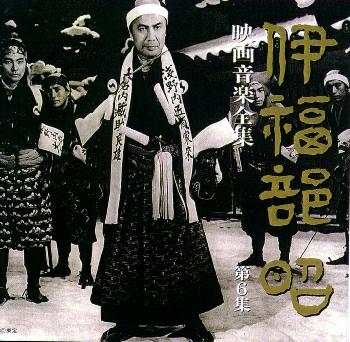 © 1999 Lawrence Tuczynski
| | |
| --- | --- |
| Title | Film Works by Akira Ifukube Vol. 6 |
| CD Label | SLC Inc. |
| CD Number | SLCS-5055 |
| Music by: | Akira Ifukube |
| Number of tracks | 6 |
| Running time | 63:47 |
| Number of discs | 1 |
| Year of release/manufacture | 1995 |
REVIEW

This is CD #6 in the Film Works series. This CD has 6 tracks but each of the tracks is like a suite of music with anywhere from 2 to 8 pieces to each track. Track #2 is a 6 minute suite of three selections from "Ghidrah, The Three Headed Monster" and Track #5 is a 2 selection suite from "Frankenstein Conquers The World". I am not familiar with the other movies listed. Track #4 has some very suspensful type music and one of the 8 selections making up this track features a song with children singing. Some of the other selections in this track will be familiar because they have been used in several Godzilla films.

Overall I really enjoyed this CD and it was certainly more upbeat than volume 5.

English Title:	 The Complete Collection of Akira Ifukube's Film Music - Volume 6
Japanese Title:  Ifukube Akira - Eiga Ongaku Zenshu Dai-roku Shu	 


1.	The Burmese Harp  (Japanese title: 'Biruma no Tategoto')
	(1)	Highway of Bones
	(2)	Shame
	(3)	The Funeral Procession
	(4)	Mizushima's Letter

2.	Ghidrah, The Three-Headed Monster  
	(Japanese title: 'San Daikaiju: Chikyu Saidai no Kessen')
	(1)	Main Title
	(2)	Persuading Mothra
	(3)	The Birth of King Ghidorah

3.	Shinobi no Mono - Kirigakure Saizo  
	(Literal translation: 'The Spy: Clowns in the Fog' *1)
	(1)	Main Title
	(2)	Farewell Lilies
	(3)	Ninja Warfare in the Sunpu *2 Mountains

4.	Chushingura: Hana no Maki/Yuki no Maki  
	(Literal translation: 'Chushingura:  The Book of Flowers/The Book of Snow *3)
	(1)	Main Title
	(2)	Springtime in the 14th Year of the Genroku Era *4
	(3)	Kira: Kozukenosuke
	(4)	Asano: Takuminokami
	(5)	Oishi: Kuranosuke
	(6)	Ako: Master-less Samurai
	(7)	Attack
	(8)	Ending

5.	Frankenstein Conquers the World  
	(Japanese title: 'Furankenshutain tai Chitei Kaiju')
	(1)	Main Title
	(2)	The Tank Brigade March

6.	Devil's Temple  (Japanese title: 'Oni no Sumu Yakata')
	(1)	Main Title
	(2)	An End to Infernal Passions


*1	If this is the same film as 'Shinobi no Mono' (1963) listed in IMDB, 
	then the English name of the film according to IMDB is 'Band of Assassins'
*2	I am not 100% certain that 'Sunpu' is the correct reading for these Kanji.
*3	This movie may be part of 'The 47 Ronin' Series.
*4	The Genroku Era refers to the period in Japan from 1688 to1704.