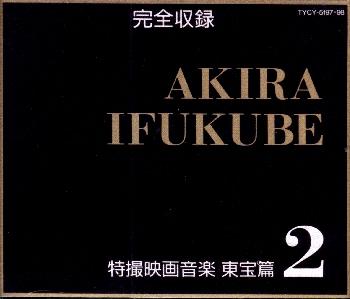 © 2000 Lawrence Tuczynski
Title:
COMPLETE RECORDINGS -
AKIRA IFUKUBE TOHO SFX FILM MUSIC Vol. 2
CD Label:
Futureland
CD Number:
TYCY-5197~98
Music by:
Akira Ifukube
Number of tracks:
Disc 1: 44
Disc 2: 30
Running time:
Disc 1: 70:56
Disc 2: 55:57
Number of discs:
2
Year of release/manufacture:
1992
REVIEW

June 27, 2000

This is a great 2 CD set concentrating on two films, "King Kong vs Godzilla" and "Varan, The Unbelievable".

You get a great mix of wonderful pieces along with several alternate versions of the same songs, especially on Disc 1. I love the natives of Faro Island chanting but I have to say that it was done so many times on this CD that by the end of Disc 1 I was praying that Godzilla would burn the natives to cinders or King Kong would stomp them into the earth. Don't get me wrong, I love this song but it was too many repetitions too many times. This is a CD set that is better listened to in short bursts rather than listening to both discs at once from beginning to end.

All in all another great, but hard to find, Akira Ifukube set.


COMPLETE RECORDINGS - AKIRA IFUKUBE TOHO SFX FILM MUSIC Vol. 2

CD-1

King Kong vs. Godzilla

1.	Credits for Recording
2.	Main Title
3.	Series of Global Wonders 
4.	The Shining Iceberg
5.	The Seahawk in Crisis
6.	The Seahawk: SOS
7.	Falo Island (also known as Faro Island)
8.	The Natives
9.	Thunder and the Devil
10.	Fumiko Worried
11.	Godzilla Lives!
12.	The Devil's Scream
13.	Pray to the Thunder
14.	Devil in the South Seas
15.	Drums of War
16.	Giant Octopus vs. King Kong
17.	The Devil Sleeps
18.	Godzilla's Terror
19.	The Immortal King Kong
20.	Preparation for Operation Burial
21.	King Kong vs. Godzilla I
22.	Preparations for Operations Megavolt
23.	Operation "Burial"
24.	Operation Burial Unsuccessful
25.	Operation "Megavolt" I
26.	Operation "Megavolt" II
27.	Kong Shows up in Tokyo
28.	Operation "Rescue Fumiko" I
29.	Operation "Rescue Fumiko" II
30.	Operation "Transport King Kong"
31.	King Kong Heads to Mt. Fuji
32.	Showdown at Mt. Fuji
33.	King Kong Lives!
34.	King Kong vs. Godzilla II
35.	Ending
36.	The Giant Devil I
37.	The Giant Devil II
38.	The Giant Devil III
39.	The Giant Devil IV
40.	Thunder and the Devil (NG)
41.	Operation "Rescue Fumiko" III
42.	Background Music in the Apartment
43.	Transistor Radio Background Music
44.	On-Site Noise

CD-2

The Monster Varan

1.	Credits for Recording
2.	Main Title
3.	Secret(s) of the 20th Century
4.	Iwatani Village
5.	Baradagi's Wrath
6.	Baradagi, the Mountain God
7.	Varan's Tyranny I
8.	Bombarding the Lake
9.	Varan's Tyranny II
10.	Varan in Flight
11.	The Fishing Boat(s) Meets With Disaster
12.	Varan vs. The Bomber, Neptune
13.	Varan vs. The Patrol Boat, Uranami (A)
14.	Varan vs. The Patrol Boat, Uranami (B)
15.	Launching the Depth Charge Attack
16.	Mobilizing the Tank Brigade
17.	Varan Heads to Haneda
18.	Special Gunpowder
19.	Varan Lives!
20.	Ending
21.	Main Title
22.	TV-2
23.	TV-3
24.	TV-4
25.	TV-5
26.	TV-6
27.	TV-11
28.	TV-12
29.	TV-14
30.	Ending