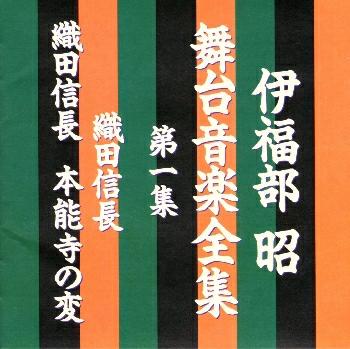 © 2000 Lawrence Tuczynski
| | |
| --- | --- |
| Title | Music For The Stage Vol. 1 |
| CD Label | VAP Inc. |
| CD Number | VPCD-81153 |
| Music by: | Akira Ifukube |
| Number of tracks | 30 |
| Running time | 64:54 |
| Number of discs | 1 |
| Year of release/manufacture | 1996 |
REVIEW

March 10, 2000

Track #1 on this CD starts off with a male voice and what sounds like the beating of sticks on a hollow log. During this track we hear some strains of music that sound similar to themes heard in many Godzilla films. Tracks #2 through #10 are mostly slow moving themes with a feeling of sadness attached to them. Track #11 picks up the pace with the sounds of suspense. The rest of the tracks on this disc sound somewhat similar to tracks 2 through 10.

This CD is pleasant to listen to but there are no toe tappers here. While I enjoyed the CD it did get somewhat tiring to listen to after awhile because so many of the tracks sound so similar and are very slow paced.


English Title:		Akira Ifukube: Music for the Stage, Volume 1
Japanese Title: 	Ifukube Akira Butai Ongaku Zenshu Daiisshu: 
					
[Oda Nobunaga] (1966)

1.	Act I, Scene I:  The Memorial Service at Manshoji Temple
2.	The Appearance of His Excellency, Lord Tsuchida
3.	Scene II:  At the Residence of Masahide Hirate
4.	End of Scene 2
5.	Scene III:  The Guest Hall at Shotokuji Temple
6.	A Visit from Nobunaga: End of Scene 3
7.	Act II: At the Asuke River Bridge *1
8.	Takechiyo and Hiyoshimaru
9.	"To the Drifting Clouds..."
10.	Reed Flute Farewell
11.	Hiyoshimaru's Coming of Age Ceremony
12.	End of Act II
13.	Act III, Scene I: At the Market in Kiyosu
14.	Buddhist Ritual Dance 1
15.	Buddhist Ritual Dance 2
16.	End of Scene I ? Scene II:  Nobunaga's Private Chambers
17.	Act IV, Scene I:   Nobunaga's Private Chambers
18.	Scene II:  At the Hall in Kiyosu Castle
19.	Scene III:  At the Hall in Kiyosu Castle
20.	Nobunaga Goes to War
21.	Finale

[Nobunaga Oda:  The Incident at Honnoji Temple] (1967)

22.	Act I, Scene I:  Near Azuchi Castle
23.	Lute Solo
24.	Scene II:  Goodbye to Nanbanji Temple
25.	Scene III: Inside Azuchi Castle (The Reception Chamber)
26.	End of Scene III ? Scene IV:  Inside Azuchi Castle: Leaving & Living *1
27.	End of Scene IV ? Scene V:   Back to the Reception Chamber
28.	End of Scene V
29.	Act II:  The End of Oinosaka
30.	Act III:  Honnoji Temple ? Finale

*1  	This is the best I can do with this rather cryptic title.