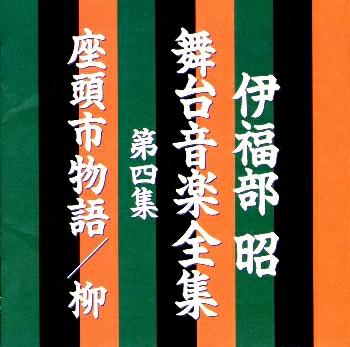 © 2000 Lawrence Tuczynski
| | |
| --- | --- |
| Title | Music for the Stage Volume 4 |
| CD Label | VAP Inc. |
| CD Number | VPCD-81156 |
| Music by: | Akira Ifukube |
| Number of tracks | 26 |
| Running time | 55:42 |
| Number of discs | 1 |
| Year of release/manufacture | 1996 |
REVIEW

March 10, 2000

Out of the four volumes of CD's in this series, I think I enjoyed this volume the most. For my tastes I found this disc had a better mix of styles and tempos. The CD starts off with a nice moving march, something not heard in the other three volumes. Track 23 on this CD has strains of music heard in many of Akira Ifukube's Science Fiction scores.

Overall, for me, this was the most listenable disc in this four CD series.


English Title:      Music for the Stage by Akira Ifukube, Volume 4
Japanese Title:     Ifukube Akira Butai Ongaku Zenshu Daiyonshu: 
				
[The Life and Opinion of Masseur Ichi] (1972)

1.	Act I, Scene I: The Teahouse at the Village Limits near Iioka
2.	End of Scene I
3.	Scene II:  The Crowded Room in Sukegoro Iioka's House
4.	Scene III: The Outbuilding at Sukegoro's House  (That Night)
5.	Act II, Scene II: The Path through the Bamboo Thicket 
6.	Act III, Scene I:  Sukegoro Iioka's House
7.	The Flash of the Hidden Blade
8.	End of Scene I
9.	Scene II: The Road (Nighttime)
10.	Finale - The End

[Yanagi (from "The Origin of the Ridge at Sanjusangendo Hall " *1]

11.	Scene I:  The Riverside Area around Oji 
12.	Heitaro's Determination
13.	Goodbye, Yanagi
14.	End of Scene I
15.	Scene II:  Heitaro's Residence
16.	Naming the Child on its 7th Night after Birth: A Song of Celebration
17.	Midorimaru *2
18.	End of Scene II
19.	Scene III:  Heitaro's Residence
20.	The Prayer: A Word in Stone 
21.	Goodbye, Heitaro
22.	In the Flesh
23.	Yanagi's Sorrow
24.	Yanagi Disappears
25.	Gidayu Ballad-Drama (M12)   End of Scene III
26.	Gidayu Chorus (M13)   Scene IV: Near Oji by the Riverside ? Finale

*1	The IMDb does not list this work, the Japanese title of which is 
	"Sanjusangendo Mune no Yurai".
*2  		A boy's name.