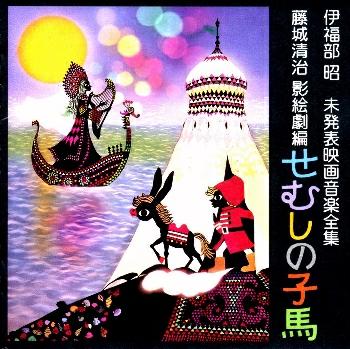 © 2000 Lawrence Tuczynski
Title
Film Composer Selection
SEIJI SHADOW PICTURES
CD Label
Vap Inc. Japan
CD Number
VPCD-81191
Music by:
Akira Ifukube
Number of tracks
51
Running time
52:17
Number of discs
1
Year of release/manufacture
1997
REVIEW

March 12, 2000

This CD is the shortest timewise and that's probably not a bad thing. Track #5 is the familiar Godzilla military march but done with violins and other string instruments. The music on this CD is very familiar sounding and a lot like the others in this series. This disc could best be described as alternate versions.


English Title:	Akira Ifukube: Complete Collection of Unreleased Soundtracks
		The Seiji Fujishiro Shadow Picture Collection
Japanese Title:	Ifukube Akira Mihappyo Eiga Ongaku Zenshu - Fujishiro Seiji Kageegeki-hen

[The Humpbacked Pony *1]

1.	Prelude:  The Wheat Fields of a Russian Village
2.	A Boy Named Ivan
3.	Starry Night
4.	Counting the Stars
5.	Descent of the White Horse
6.	A Few Years Later
7.	Danilo *2 and Gabrilo *2
8.	Baffary! *2
9.	The Flying Pony
10.	The Firebird's Feather
11.	The Flying Pony
12.	The Market in the Capital
13.	The Appearance of the King
14.	The Pony and Ivan
15.	The King's Parade
16.	Runaway Horse
17.	Ivan's Flute *3
18.	Ivan and the King: The Parade
19.	Ivan Asleep
20.	Semillon's *2 Evil Plot
21.	The Firebird's Feather
22.	Ivan In Trouble
23.	The Flying Pony
24.	Get the Firebird!
25.	The Servant's Story
26.	The Moon Princess
27.	Song of Dreams
28.	The Pony Soars through Snowy Skies
29.	Ivan In Trouble
30.	The Flying Pony
31.	The Whale's Wish
32.	The Pony Gallops to the Heavens
33.	The Shrine of Light
34.	Sailor's Song
35.	The Great King of the Sea
36.	The Fish Search for the Ring
37.	Sunset by the Sea
38.	Hurry to the Palace!
39.	Ivan Gets Caught
40.	Ivan Cries in Prison
41.	The King's Bugle
42.	The First Kettle of Milk
	The Second Kettle of Boiling Water
	The Third Kettle of Ice Water
43.	Ivan Reborn
44.	Finale
45.	Sailor's Song/Accompaniment
46.	Sailor's Song  (Separate Take)
47.	A Boy Named Ivan - First Half
48.	A Boy Named Ivan - Second Half
49.	Get the Firebird!  (Separate Take)
50.	Ivan Gets Caught  (Separate Take)
51.	The Flying Pony  (Separate Take)

*1  	The IDMB does not list this film, the Japanese title of which is "Semushi no Kouma".  
	Note that I may have translated this title as "The Hunchbacked Pony" in previous CDs.
*2  	This is a direct transliteration of the Japanese.
*3	Or possibly "Ivan's Whistle".