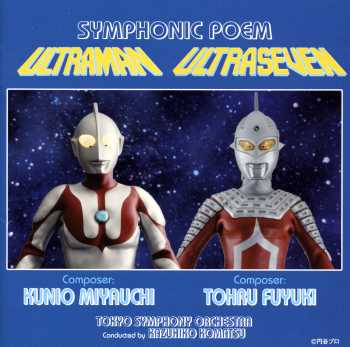 © 2008 Lawrence Tuczynski
| | |
| --- | --- |
| Title | Symphonic Poem - "Ultraman" & "UltraSeven" |
| CD Label | King International Inc. |
| CD Number | KDC-14 |
| Music composed by: | Kunio Miyauchi & Tohru Fuyuki |
| Music conducted by: | Kazuhiko Komatsu |
| Music performed by: | Tokyo Symphony Orchestra |
| Number of tracks | 11 |
| Running time | 52:18 |
| Number of discs | 1 |
| Year of release/manufacture | August 22, 2007 |
REVIEW

April 03, 2008

This CD is done similar to Akira Ifukube's "Symphonic Fantasia" where music from several Ultraman and UltraSeven films and shows are done by a symphony orchestra. All the music here will be familiar to die hard Ultraman fans and several tracks will sound familiar to those with just a passing interest. A very nice sounding CD for the Ultra fan.
Symphonic Poem - "Ultraman" & "UltraSeven"
English track title translations courtesy of Jolyon Yates!
ULTRAMAN SYMPHONY - Kunio Miyauchi (1932-2006) composer, arranger

Ultraman Song
Science Special Search Party Theme
Shibozu Theme
SSSP Sortie
Ultraman's Defeat
Go, Ultraman!!

ULTRASEVEN SYMPHONY - Toru Fuyuki (1935~) composer, arranger

Ultraseven
Monster Appearance
Ultrahawk Launch
Evil Power of the Invader
Sayonara Ultraseven