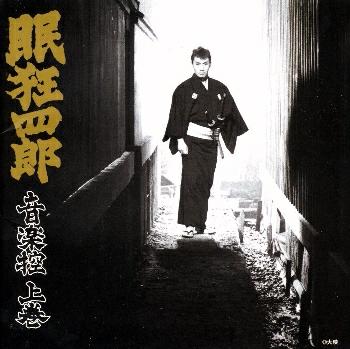 © 2000 Lawrence Tuczynski
| | |
| --- | --- |
| Title: | Nemuri Kyoshiro Anthology Vol. 1 |
| CD Label: | King Records |
| CD Number: | KICA 3026 |
| Music by: | Various |
| Number of tracks: | 45 |
| Running time: | 71:06 |
| Number of discs: | 1 |
| Year of release/manufacture: | 1998 |
REVIEW

August 4, 2000

Koji Tsuruta who was known as the actor Nemuri Kyoshiro was born on December 6, 1924 in Shizuoka, Japan. The IMdB lists him as starring in at least 18 films and he was probably in many more. Kyoshiro means "deranged fellow", while Nemuri means "sleepy", reflecting his blasť attitude towards life, and his cynical and cold posture toward others.

Unfortunately I was unable to find the composer or composers of the tracks on this CD. Also it looks like there's not much in the way of real track titles either, just numbers. The CD starts off with a great suspense type track. Many of the tracks have an Akira Ifukube feel to them and would seem just as at home in a Sci-Fi movie as in a Samurai movie. There are a few slow tunes here but the majority are mid-tempo to upbeat fast tunes. Most of the tracks have a definite suspense feel to them.

This was a very enjoyable CD. I liked it so much that I ordered Vol. 2.


English Title:		Nemuri Kyoshiro Anthology Vol. 1
Japanese Title:		unknown

From "Sleepy Eyes of Death: The Chinese Jade" (1963)

(Taichiro Kosugi)
1.	Musical Suite  (Daiei Logo Mark - Main Title - Kyoshiro and Muso Masamune)

From "Sleepy Eyes of Death: Sword of Adventure" (1964)

(Ichiro Saito)
2.	Musical Suite (Kyoshiro Remembers Christian Hill - Kyoshiro in Desperation - The Full Moon Cut)

From "Exploits of Kyoshiro Nemuri the Swordsman" (1964)

(Ichiro Saito)
3.	DB Top (Daiei Logo Mark - Main Title)
4.	DB2 (Murder in the Streets)
5.	DB20 (Kyoshiro Violates Onami)
6.	DB39 (Takayuki Katagiri... Villainy)
7.	DB46 (Takebe Kogen and Taju)
8.	DB48 (Fight Scene on the Bridge)
9.	DB49 (The Full Moon Cut:  Kyoshiro vs. Takayuki Katagiri)
10.	DB50 (Ending)

From "Sleepy Eyes of Death: Sword of Seduction" (1964)

(Ichiro Saito)
11.	DB1A (Daiei Logo Mark - Main Title - The Bathroom)
12.	DB28 (Princess Kiku: Love and Hatred)
13.	DB33 (Kyoshiro: Orders to Kill - Kyoshiro and the Puppy)
14.	DB37 (Christians in Hiding - Believers Arrested - Kyoshiro vs. Takebe Kogen)
15.	DB40 (Hirusen Shima - Black Mass: The Secret of Kyoshiro's Birth)
16.	DB41 (Ending)

From "Sleepy Eyes of Death: Sword of Fire" (1965)

(Ichiro Saito)
17.	DB1 (Daiei Logo Mark - Main Title)
18.	DB11 (Parade In The Center Of Town)
19.	DB20 (Kyoshiro Meets Oryo)
20.	DB22 (Attack of the Todo Clan)
21.	DB21  Second Half C (Kyoshiro and Oryo Say Goodbye)
22.	DB24 (Deceptive Peace)
23.	DB35A (Kyoshiro Fight Scene: The Higaki Family Temple)
24.	DB36 (Kyoshiro and Kayo)
25.	DB38 (Ending)

From "Sleepy Eyes of Death: Sword of Satan" (1965)

(Ichiro Saito)
26.	DB1 (Daiei Logo Mark - Rainy Night - Main Title)
27.	DB2 (The Masked Woman)
28.	DB11 (Jokanji Temple - Kyoshiro vs. Monbu Saburota)
29.	DB19 (Kyoshiro Heads to the Iwashiro Clan)
30.	DB30 (Kyoshiro and Orin)
31.	DB41 (Kyoshiro: Fight Scene at the Five-Story Pagoda)
32.	DB42 (The Full Moon Cut - Kyoshiro vs. Akashi Gunbei)
33.	DB43 (Ending)

From "Sleepy Eyes of Death: The Mask of the Princess" (1966)

(Akira Ifukube)
34.	DB1 B (Daiei Logo Mark - The Dance of Princess Kiku - Main Title)
35.	DB4 (Reminiscing... Kyoshiro and Princess Kiku)
36.	DB5 (The Maiden Haru)
37.	DB8 (Bizarre Murder(s))
38.	DB11 (The Full Moon Cut: At the Akamatsu Dojo)
39.	DB13 (A Woman Pursued)
40.	DB14 (The Full Moon Cut: Kyoshiro vs. Akamatsu Kanbei)
41.	DB20 (Kidnapping)
42.	DB26 (Kyoshiro and Ohisa)
43.	DB27 (Gusty Gang No. 17)
44.	DB29 (Princess Kiku and Tenba *1)
45.	DB31 (Princess Kiku's Mansion)
46.	DB35 (Ending)

*1	Or possibly 'Princess Kiku and Flying Horse'