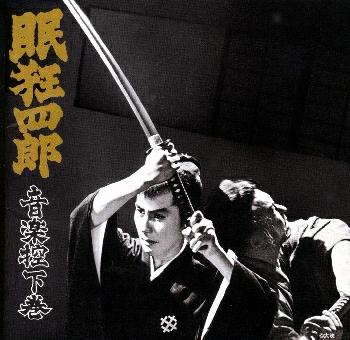 © 2000 Lawrence Tuczynski
| | |
| --- | --- |
| Title: | Nemuri Kyoshiro Anthology Vol. 2 |
| Also known as: | KYOUSHIROU NEMURI MUSIC COLLECTION: LAST VOLUME |
| CD Label: | King Records |
| CD Number: | KICA 3027 |
| Music by: | Various |
| Number of tracks: | 49 |
| Running time: | 73:08 |
| Number of discs: | 1 |
| Year of release/manufacture: | 1998 |
REVIEW



September 17, 2000

Koji Tsuruta who was known as the actor Nemuri Kyoshiro was born 
on December 6, 1924 in Shizuoka, Japan. The IMdB lists him as
starring in at least 18 films and he was probably in many more.
Kyoshiro means "deranged fellow", while Nemuri means "sleepy", 
reflecting his blasť attitude towards life, and his cynical and 
cold posture toward others.

Based on what info I could find, the tracks on this CD could have
been composed by a combination of the following three composers:
1. Taichiro Kosugi who scored the 1966 movie "Enter Kyoshiro: The
Swordsman". 
2. Akira Ifukube who scored a 1967 film in the series.
3. Ichiro Saito who scored films in 1966 & 1967 in the series and
is known for his sad sounding music.

Unlike Vol. 1 of this series, there is very little here on Vol. 2
that could be described as action music. Most of the music on this
CD is slow, sad music or mid tempo suspense music. A lot of the 
music on this CD features flute music or has a lot of horns in
it. A few tracks were even reminiscent of the style of Masaru 
Satoh. Several tracks even sounded somewhat like laid back Mexican
music. Track # 25 features a female vocal.

Overall this is not a bad CD but almost the complete opposite in
style of what was on Vol. 1. Unfortunately the track titles won't
tell us much about this music because like most of the track listings
on this series of CD's they are only numbers and not actual titles.




English Title:		Nemuri Kyoshiro Anthology Vol. 2
			(KYOUSHIROU NEMURI MUSIC COLLECTION: LAST VOLUME)

Translation courtesy of John Cassidy (Daijirou Ryuusei)

From KYOUSHIROU NEMURI: THE VILLAIN'S SWORD (1966)
(Chapter 8)
Akira Ifukube

1.) DB1A (Daiei Mark ~ Main Title)
2.) DB5 (Burning Sake ~ Shishi Gyouhei's Woman)
3.) DB12-I (Ooshio's Rebellion)
4.) DB15 (The Yahiko House and the Monji House ~ The Dark Oil Fire)
5.) DB21 (The Aizome Faction's Conspiracy)
6.) DB28 (Kyoushirou Fell Into A Trap)
7.) DB33A (Showdown - The Two Engetsu* Killing Methods ~ Ending)

From KYOUSHIROU NEMURI: THE VILLAIN'S DEVILISH LAIR (1967)
(Chapter 9)
Takeo Watanabe

8.) DB1 (Daiei Mark ~ Main Title)
9.) DB2 (Ritual Of The Black Mass)
10.) DB6 (Shirou Amakusa's Treasure ~ Kyoushirou And Chisa)
11.) DB10 (Assassin ~ The Strange Black Finger Faction)
12.) DB16 (Transporting The Maria Statue ~ The Black Finger Faction's Attack)
13.) DB32 (Moonlit Night - Kyoushirou And Chisa ~ Journeying Skies ~ Oen)
14.) DB33 (Kyoushirou Runs To The Capital ~ Oen's Death ~ A Trap)
15.) DB36A (Nobe's Funeral ~ Ending)

From KYOUSHIROU NEMURI: WOMAN HELL (1968)
(Chapter 10)
Takeo Watanabe

16.) DB1 (Daiei Mark - Main Title)
17.) DB2-M3 (The Crimson Hand Grabs ~ Kyoushirou And Tatsuma Naruse)
18.) DB8 (To Saeki Castle Land)
19.) DB23 (The Engetsu Killing Method - Kyoushirou Vs. Tatsuma Naruse)
20.) DB32 (Kyoushirou And Osono ~ Poisonous Snake ~ Challenge)
21.) DB36 (The Killing Crowd - Unemenoshou Attacks)
22.) DB37 (Kyoushirou And Jinnai ~ Tatsuma's Final Moment)
23.) DB38 (Ending - Kyoushirou Leaves)

From KYOUSHIROU NEMURI: THE FLESH SPIDER (1968)
(Chapter 11)
Michiaki Watanabe

24.) DB1 (Daiei Mark)
25.) DB2 (Main Title)
26.) DB3 (Princess Murasaki Goes Into A Riot)
27.) DB8 (Child Of Destiny - Heigo Kuzushi ~ The Abominable Black Mass)
28.) DB12 (Within The Purple-Colored Room - Kyoushirou And Princess Murasaki)
29.) DB22 (The Hooded Woman)
30.) DB25 (Kyoushirou Desperate)
31.) DB33 (Sieged Kyoushirou ~ Kyoushirou's Great Sword Battle)
32.) DB40-RO (The Engetsu Killing Method - Kyoushirou Vs. Ietake Domon)
33.) DB40 (Princess Murasaki Vanished In The Flames)
34.) DB41 (Ending)

From KYOUSHIROU NEMURI: HUNTING THE WICKED WOMAN (1969)
(Chapter 12 - Final)
Takeo Watanabe

35.) DB1 (Daiei Mark ~ Main Title ~ Edo Castle - Harem
36.) DB3 (The Fake Kyoushirou Appears)
37.) DB9-M7 (Kyoushirou And Saya - In Hakaba)
38.) DB11 (Shunma Kawaguchi's Secret)
39.) DB25 (The Fake Kyoushirou's True Form)
40.) DB26-M18 (The Christian Siege Net)
41.) DB26-M19 (Saya's Death)
42.) DB28 (Challenge)
43.) DB29-M21 (Showdown - Kyoushirou Nemuri Vs. Shunma Kawaguchi)
44.) DB29-M22 (Ending - Farewell, Kyoushirou Nemuri)

BONUS TRACKS

From KYOUSHIROU NEMURI: ENGETSU KILLING METHOD
Daiichirou Kosugi

45.) DB TOP (Daiei Mark)
46.) DB4A (Main Title)

From KYOUSHIROU NEMURI: SLASH THE SWASTIKA
Takeo Watanabe

47.) DB1 (Daiei Mark)
48.) DB1-I (Main Title)

Daiei Films KYOUSHIROU NEMURI SERIES Theme Song

49.) The Song of Kyoushirou Nemuri

Sung by Hiroki Matsukata
Daiei Recording Orchestra
Lyrics: Renzaburou Shibata
Music: Koumei Sone
Arrangement: Kou Ikeda


NOTES:

- "Engetsu" = "Round Moon"
- Sadly, seven months after KYOUSHIROU NEMURI: HUNTING THE WICKED WOMAN was released
early in 1969, the film series' star, Raizou Ichikawa, died of cancer.  He was nearly
38 years old.