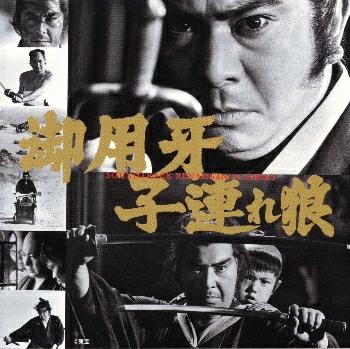 © 2000 Lawrence Tuczynski
| | |
| --- | --- |
| Title: | Goyokiba/Kozure Ookami |
| Japanese Title: | Goyokiba/Kozure Ookami |
| CD Label: | King Records |
| CD Number: | KICA 3032 |
| Music by: | Various |
| Number of tracks: | 34 |
| Running time: | 74:35 |
| Number of discs: | 1 |
| Year of release/manufacture: | 1998 |
REVIEW



September 18, 2000

This CD set is comprised of movies made from 1972 to 1974.
Goyokiba (1972), "The Sword Of Justice", starred Shintaro Katsu as
Hanzo "The Razor" Itami. The music for this Razor series of movies 
(1972-1974) was composed by Kunihiko Murai (1972) and Isao Tomita
(1973). Kozure Ookami was also known as the "Lone Wolf And Cub" and
"Baby Cart" movies. The music for most of these movies was composed
by Hideaki Sakurai.

Track #1 sounds like "Charlie's Angels" TV music. It definitely has
a 1970's feel to it. The tracks are mostly slow with a sound like
that heard in US TV shows of the 1970's, a sort of jazz/lounge music feel. 
Track #5 sounds like experimental synthesizer music. The synthesizer
appears off and on in several tracks. Sometimes it adds to the music and
other times is distracting. Track #9 is an up tempo male vocal. It
sounds like a pop/rock song. Track #34 is also a male vocal done in
sort of a western style. Other tracks on the CD are more traditional 
sounding with some action oriented tunes featuring drums & woodwind
instruments.

This CD is a mixed bag of styles and tempos. It's mostly a pleasant
listen with a few really good tracks.



Updated July 12, 2001

English Title:	GOYOUKIBA/LONE WOLF AND CUB (KOZURE OOKAMI)
Japanese Title:	Goyokiba/Kozure Ookami

Translations courtesy of John Cassidy (Daijirou Ryuusei) 

From: GOYOUKIBA
Kunihiko Murai

 1.) M3, M4 ("Goyoukiba's Theme" - Film Version)
 2.) M2-2 (Main Title)
 3.) M4 Second Half, M17, T2 ("Goyoukiba - Love Theme" - Film Version)

From: GOYOUKIBA: RAZOR HANZOU'S HELL SENTENCE
Isao Tomita

 4.) M3 (Main Title)
 5.) M10 (The Villain - Shoubei Heijima)
 6.) M18 (Razor Hanzou Draws Near Evil)
 7.) M19 (Juunai Mikoshiba's Last Moment ~ Epilogue)

From: GOYOUKIBA: DEMONIC HANZOU'S SOFT SKIN KOBAN*
*("Koban" are former Japanese gold coins, shaped like ovals.)
Hideaki Sakurai

 8.) M10 (Main Title)
 9.) Goyoukiba ("Fang" Theme)
        Performed, Arranged and Sung by MOPS
        Lyrics: Kazuo Koike (creator of GOYOUKIBA)
        Music: Masaru Hoshi

From: LONE WOLF AND CUB: TO LOAN THE TALENT TO LOAN A CHILD
Hideaki Sakurai

10.) M3 (Main Title)
11.) M10 (The Oath)
12.) The Hand Ball and the Thick Trunk
13.) M7 EX (Suiouryuu)
14.) M14 (Birds And Beasts)
15.) M17 (Horror - The Assassin's Prized Sword)
16.) M18 (Ending)

From: LONE WOLF AND CUB: BABY CARRIAGE AT RIVER STYX
(AKA: SHOGUN ASSASSIN)
Hideaki Sakurai

17.) M13, T2 (Lone Wolf, Crossing the Sea)
18.) M14 (The Shogunate's Convoy Men - Bentenrai)
19.) M19 (Loving Father & Son and Sayaka Yagyuu)
20.) M17 (Great Sword Battle of the Sand Dunes)

From: LONE WOLF AND CUB: THE BABY CARRIAGE FACES THE WIND IN DEATH
Hideaki Sakurai

21.) M1 (Prologue - The Shining Water Surface)
22.) M21 Type A (Daigorou, In the Rainy Night)
        (Akira Yoshida - Composed from "LONE WOLF AND CUB")
23.) M19 (Lone Wolf, Howling in the Wilderness)

From: LONE WOLF AND CUB: PARENT SHINKO'S HEART
Hideaki Sakurai

24.) M1 (Main Title)
25.) M0, M30 (Yagyuu Ura's Siege Ground)
26.) M32 (Ending)

From: LONE WOLF AND CUB: HERESY OF HADES
Hideaki Sakurai

27.) M1 (Main Title)
28.) M10 (Lone Wolf's Child)
29.) M11 (Day Falls)
30.) M17 (Kyoushuu Kurotaomote)
31.) M16 (Lone Wolf Runs Along the Ground)
32.) M21 First Half (Ending)

From: LONE WOLF AND CUB: YOU'RE GOING TO HELL, DAIGOROU!
Kunihiko Murai

33.) Main Title (Selected from the Film Soundtrack)
34.) Lone Wolf And Cub
        Sung by Tomisaburou Wakayama
        Lyrics: Kazuo Koike (Creator of LONE WOLF AND CUB)
        Music: Hiroshi Kamayatsu
        Arranged by Masahiko Aoi