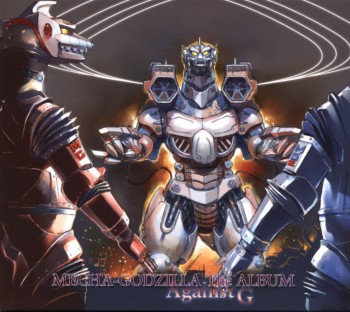 © 2004 Lawrence Tuczynski
Title:
MechaGodzilla The Album: Against G
CD Label:
King Record Co., Ltd.
CD Number:
KICA626~7
Music by:
Various
Number of tracks:
Disc 1 - 22
Disc 2 - 26
Running time:
Disc 1 - 70:44
Disc 2 - 75:45
Number of discs:
2
Year of release/manufacture:
12-26-2003
REVIEW

January 2, 2004

This 2 CD set came out the day after Christmas and is a compilation of music from the five films that MechaGodzilla has appeared in. The packaging is nice. We get a cardboard sleeve just slightly larger than a regular jewel case but thinner than most 2 CD cases. Inside are 2 slimline cases with a CD in each case. Disc 1 is labeled Hangar 1 and disc 2 is labeled Hangar 2. Also included is a 15 page booklet consisting entirely of Japanese test, no pictures.

There is really nothing new here if you have the other CD's containing the various MechaGodzilla soundtracks. However the music here is well done and makes a nice compilation. Both CD's are filled with over 70 minutes each of music. If you don't have the MechaGodzilla CD's then this makes a great compilation and if you do have them, it's still a nice set to have.
Title: MECHAGODZILLA The Album Against G
Track titles courtesy of Jolyon Yates.
HANGER 1 (Disc 1)

From Godzilla's 20th Birthday Movie GODZILLA vs MECHAGODZILLA

Mechagodzilla's Theme
GODZILLA vs MECHAGODZILLA Main Title
Legendary Prediction ~ Challenge from Mechagodzilla
Myarabi Prayer (movie version)
Three Giant Monsters - Okinawa Showdown
GODZILLA vs MECHAGODZILLA Ending

From the Toho Records single GODZILLA vs MECHAGODZILLA

Myarabi Prayer
Attack Mechagodzilla

Toho Robot Monster Themes

Mogera's Attack (THE MYSTERIANS)
Mechanikong Departs (KING KONG ESCAPES)
Mechagodzilla Renewed ~ Mechagodzilla vs King Shisa
(GODZILLA vs MECHAGODZILLA M-18, Son of Godzilla, M-33 2nd half)
Mechagodzilla II (TERROR OF MECHAGODZILLA)

From the Mechagodzilla Series Pt 2 TERROR OF MECHAGODZILLA

TERROR OF MECHAGODZILLA Main Title
Living Dinosaur
The Mafune's Tragedy
Godzilla Appears!
Mechagodzilla Revives
Death Match
Katsura's Death ~ Ending
Mechagodzilla's Sound Effects Collection (Showa Period)

From the album Godzilla Legends III

Godzilla Showdown Series - Extract
(TERROR OF MECHAGODZILLA ~ GODZILLA vs GIGAN / GODZILLA vs MECHAGODZILLA)

From the album Ostinato

Premonition of the Invaders
HANGER 2 (Disc 2)

From the Late Century Birthday of the King GODZILLA vs MECHAGODZILLA
(ie GODZILLA vs MECHAGODZILLA II)

Introduction
GODZILLA vs MECHAGODZILLA Main Title
G Force Training Centre
Godzilla vs Radon
Preparation for Mechagodzilla Sortie
Mechagodzilla vs Godzilla
G Force March I (M-16.35 G Force March fast)
Radon Sendai Attack
Mechagodzilla Second Sortie
G Force March II (GODZILLA vs MECHAGODZILLA M-16.35 G Force March slow)
Godzilla's Theme (G Extra)
Rolling Titles
Tragic Godzilla (song: Boogabooga GODZILLA vs MECHAGODZILLA campaign song)

From Rising, Resounding, Ice-breaking GODZILLA x MECHAGODZILLA

Opening
Godzilla Rises ~ Main Title
Mad - Burn with Fighting Spirit
MG's Theme
Mechanical Dragon Team Theme
Mechanical Dragon, Running Wild
Sortie Command
Both Dragons Clash

From Giant Monsters Climactic Showdown GODZILLA x MOTHRA x MECHAGODZILLA TOKYO SOS

Main Title
Mothra's Song 2003 version
(GODZILLA x MOTHRA x MECHAGODZILLA TOKYO SOS promotion song)
Mechagodzilla Sound Effects Collection (Heisei Period)

From Godzilla's 40th Birthday Symphonic Concert

Mechagodzilla's Theme (GODZILLA vs MECHAGODZILLA)
G Force March (GODZILLA vs MECHAGODZILLA)
Osaka Symphonica conducted by Masaru Sato