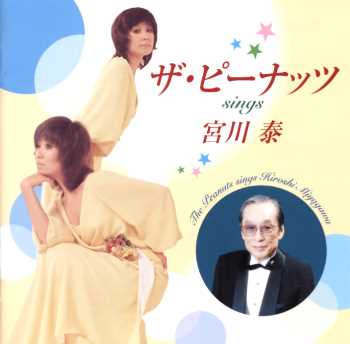 © 2006 Lawrence Tuczynski
Title
The Peanuts Sings Hiroshi Miyagawa
CD Label
King Record Co., Ltd.
CD Number
KICS-1258~59
Music by:
The Peanuts (Emi & Yumi Ito)
Music Composed by:
Hiroshi Miyagawa
Number of tracks
Disc 1 - 20
Disc 2 - 19
Running time
Disc 1 - 54:40
Disc 2 - 59:21
Number of discs
2
Year of release/manufacture
September 06, 2006
REVIEW

September 07, 2006

This 2 CD set contains a total of 39 tracks and almost two hours worth of music. All the songs on these two discs were composed by Hiroshi Miyagawa. These CD's are a combination of greatest hits and rare tracks. Some of them have been released before on other discs and some are seeing the light of day for the first time. Track 19 on Disc 1 is a nice sounding pop tune with a male vocal and The Peanuts mainly singing background. Track 3 on Disc 2 is one of their "Mothra" (Mosura) tracks. All the tracks are from the 1961 - 1975 time period. Both CD's are very nice sounding with a variety of tunes and styles. If you like the sound of The Peanuts and don't already have much of their music, this nicely priced new 2 CD set is worthwhile getting while it's still in print.

Additional info by David Hirsch

Thirty-seven of the greatest hits recorded by The Peanuts, the sisters known internationally as Mothra's original Twin Fairies are featured in this 2-CD set. "Space Battle Ship Yamato's" legendary composer, Hiroshi Miyagawa composed or recorded all the tracks assembled here, including several rare ones.
The Peanuts Sings Hiroshi Miyagawa
Track titles courtesy of Jolyon Yates
DISC 1
Composer/Arranger 1, 13, 15, 19, 20 Hiroshi Miyagawa
Vocals: The Peanuts

Soap Bubble Holiday
(NTV show 'Soap Bubble Holiday' theme song)
Lyrics: Takeshi Maeda
Recorded 1961
Quick Doll
Lyrics: Yukio Seito
Composers: Yao Nakamura, yasushi Miyagawa
Recorded July 24 1961
That's The 15th Summer Festival (Quick Doll Song)
from Nippon Broadcasting 'The Peanuts Today Songs'
Lyrics: Tokiko Iwatani
Recorded July 24 1961
Mountain Hut Mr Taro
Lyrics: Tokiko Iwatani
Recorded: December 12 1961
Don't Turn Around
Lyrics: Tokiko Iwatani
Recorded January 6 1962
Couple's Highpoint
Lyrics: Tokiko Iwatani
Recorded September 11 1962
Hand Knitted Socks
Lyrics: Nobuhiro Takeuchi, Tokiko Iwatani
Recorded September 11 1962
My Heart is Absent-minded
Lyrics: Nobuhiro Takeuchi, Takashi Otowa
Recorded October 12 1962
Discarded fan in Kamo Stream
Lyrics: Kanbe Takao
Recorded October 12 1962
Vacance d'Amour
Lyrics: Tokiko Iwatani
Recorded February 5 1963
Turn Toward Here
Lyrics: Chikashi Akimoto
Recorded February 14 1963
Traditional Folk Song
Theme song from the Takarazuka Movie YOUNG FRIENDS: PALACE GARDEN FOLK SONG
Lyrics: Tokiko Iwatani
Recorded April 3 1963
Couple's Fantasy
Incidental song from the takarazuka Movie YOUNG FRIENDS: PALACE GARDEN FOLK SONG
Lyrics: Tokiko Iwatani
Recorded April 1963
Tokyo Twilight
Lyrics: Tokiko Iwatani
Recorded September 25 1963
Loved Loved One
Lyrics: Tokiko Iwatani
Recorded September 25 1963
Candy Moon
Lyrics: Kazumi Yasui
Recorded january 21 1964
Rokugatsu no Hanayome (June Bride)
Lyrics: Tokiko Iwatani
Recorded March 13 1964
Jyuun Buraido (June Bride)
Lyrics: Tokiko Iwatani
Recorded March 13 1964
Suki ni Nachyachyata with Makoto Fujita
Lyrics: Nobuhiro takeuchi
Arrangement: Tetsuaki Hagiwara
Recorded July 4 1964
Una Sera de Tokyo (In the Tokyo Evening)
Lyrics: Tokiko Iwatani
Arrangement: Osamu Tokai
Recorded July 23 1964
DISC 2
Composer/Arranger Hiroshi Miyagawa (12, 16, 18)
Vocals: The Peanuts

Blue Sky Smile
Lyrics: Kazumi Yasui
Recorded: July 26 1964
My Love
Lyrics: Kazumi Yasui
Recorded Septmeber 8 1964
Calling Happiness
Incidental song from Toho movie GHIDRAH THE 3-HEADED MONSTER
Lyrics: Tokiko Iwatani
Recorded 1964
In Your Bosom
Lyrics: Kazumi Yasui
Recorded May 11 1965
Get Used to Tomorrow
Lyrics: Kazumi Yasui
Recorded November 8 1965
That Whirling Sky
Lyrics: Tokiko Iwatani
Recorded March 4 1966
Love Bridge
Lyrics: Tokiko Iwatani
Recorded March 4 1966
Love is Eternal
Lyrics: Tokiko Iwatani
Recorded March 23 1966
Silver Road
From NHK show 'Dreams to You'
Lyrics: Shigeru Tsukada
Recorded August 19 1966
Pluck the Flower of Happiness
From NHK show 'Dreams to You'
Lyrics: Shigeru Tsukada
Recorded March 23 1967
Love Finale
Lyrics: Hiroshi Nakanishi
Recorded September 28 1967
To The Ends of Love
Lyrics: Hiroshi Nakanishi
Recorded August 1 1968
Love Extinguished in the North Wind
Lyrics: Tokiko Iwatani
Recorded August 30 1968
Dream of Only One
Lyrics: Tokiko Iwatani
Recorded August 30 1968
Love Ophelia
Lyrics: Hiroshi Nakanishi
Recorded September 5 1968
Yesterday's Love
Lyrics: Tokiko Iwatani
Recorded September 28 1970
Lonely Hong Kong
Lyrics: Tokiko Iwatani
Recorded July 28 1971
Profile
Lyrics: Yoko Yamaguchi
Arrangement: Ken'ichiro Morioka
Recorded January 10 1975
Unfaithful Guy
Lyrics: Yoko Yamaguchi
Recorded January 27 1975