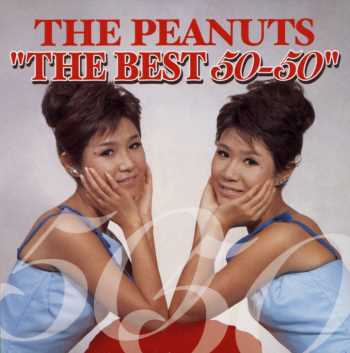 © 2010 Lawrence Tuczynski
Title
THE PEANUTS "The Best 50-50"
CD Label
King Record Co., Ltd.
CD Number
KICS-1542~3
Music by:
The Peanuts (Emi & Yumi Ito)
Number of tracks
Disc 1 - 25
Disc 2 - 25
Running time
Disc 1 - 73:07
Disc 2 - 74:51
Number of discs
2
Year of release/manufacture
April 30, 2010
REVIEW

May 18, 2010

This new repackaging of music by The Peanuts represents 50 A & B sides from various singles. Not really much here we haven't heard before but there were several tracks I didn't remember hearing before. This is a nice double CD with 50 songs total. You also get your money's worth since both CD's clock in at over 70 minutes each. The packaging says these tracks are MONO & STEREO and that's true but only three tracks on disc 1 and three tracks on disc 2 are in MONO. The other 44 tracks are all in STEREO. I also believe part of the title comes from this being The Peanuts 50th Anniversary.

After listening to this set twice so far I will say that this is probably the best sounding Peanuts CD I can remember hearing. It sounds like a lot of work was put into remastering these singles that mostly date back to the 1960's. For fans of The Peanuts music or those that haven't bought many or any of their previous CD's, this is one I can highly recommend.
THE PEANUTS "The Best 50-50"
Translations courtesy of Jolyon Yates (March 18, 2011).
The years listed are when the Singles were released either on vinyl or CD.
DISC 1

Love Fugue - 1967
Love Vacation (Holiday Of Love)- 1963
Una Sera Di Tokyo - 1964
Don't Look Back - 1962
Mothra's Song (mono)- 1961 & 1998
Passion Flower (mono) - 1959
Petite Fleur [literally, 'Loveable Flower'] (mono) - 1959
Golden Street - 1966
Osaka Woman - 1970
Stardust - 1970
Soap Bubble Holiday - 1961 & 2003
Lover Come Back To Me - 1974 & 1980
Roman Rain - 1966
Sudden Goodbye - 1972
Coffee Rhumba - 1961
When Tomorrow Comes - 1965
Love Ophelia - 1968
Love Rondo - 1968
Love Finale - 1968
Passion Judgment - 1973
I & I - 1962
Tokyo Woman - 1970
Face It - 1963
I'll See You In My Dreams - 1960
After The Ring - 1973
DISC 2

The Light in the Window of the Heart (mono) - 1960
The Heights of Two - 1962
You Are Divorced - 1974
Boogie Woogie Bugle Boy (LIVE) - 1974 & 1980
June Bride - 1964
The Peanut Vendor (mono) - 1959
Young Season - 1963
Glass Castle - 1968
Heartaches At Sweet Sixteen (mono) - 1960
Mr Taro of Yamagoya - 1962
Traces of Love - 1974
Fickle One - 1975
Handknitted Socks - 1962
Grieving Valentino - 1969
Napolitan Moonlight - 1960
Tears Lost in Sand - 1965
Daughters of Infant Island - 1961 & 1998
Give Back Right Now - 1965
Souvenirs Aus Tokyo - 1965
Heut'Abend - 1965 & 1995
Papa's Beating Mama - 1960
Epitaph - 1972
There are 15 Summer Festivals - 1961
Don't Leave - 1967
Smile of the Blue Sky - 1964