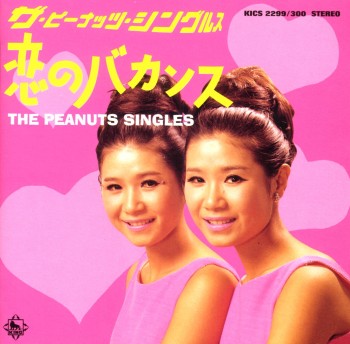 © 2002 Lawrence Tuczynski
Title
The Peanuts Singles - Koi No Vacances
CD Label
King Record Co., Ltd.
CD Number
KICS-2299/300
Music by:
The Peanuts (Emi & Yumi Ito)
Number of tracks
Disc 1: 17
Disc 2: 17
Running time
Disc 1: 51:40
Disc 2: 48:11
Number of discs
2
Year of release/manufacture
05-28-1999
REVIEW

April 26, 2002

This second 2 CD set is made up of more singles put out by The Peanuts. Disc 1 contains the "A" sides and Disc 2 contains the "B" sides. This is the way all 4 volumes are handled. There are no songs here from "Mothra" but there are some nice covers of US tunes that are done a little differently from the originals. Despite having 1 track fewer on each disc than Volume 1, the discs clock in slightly longer than the first volume.

I have always enjoyed the singing and harmonies of these women in the "Mothra films which is why I sought out more CD's by them. The songs on this CD are a mixture of Japanese, Japanese with some English, some English and possibly a few other languages. I find their music fun and relaxing to listen to and some of the cover versions of US pop hits can be amusing. I especially enjoyed their version of "Yellow Bird" on this set.

If you like soft pop from the 50's & 60's then you may enjoy this CD. It's the kind of soft pop done by U.S. artists before the British Invasion of the mid 60's. I enjoyed this CD as well as the others on this site. One word of warning, several of the songs are repeated on more than one CD on this site.
The Peanuts Singles - Koi No Vacances (Romantic Vacation)
Translations courtesy of John Cassidy
Disc 1

Yellow Bird
The Sun Is Always In My Heart
Don't Look Back
La Noche De Tu Partida
Ballata Della Tromba
Me And Me
Midnight In Moscow
Yessiree
Where The Four Winds Blow
Hand-knitted Socks
Like I Do
The Young Season
Kouta Gion
Karin's Theme
Romantic Vacation
The Dancing Geisha Party Song
Una Sera Di Tokyo
Disc 2

Je N'Aime Que Toi
Tarou-san Of The Mountain Hut
Addio
I Don't Wanna Play In Your Yard
Una Amore Di Roma
Happy Tail
E' Qui
Good Luck Charm
Johnny Angel
Two People's Plateau
If I Didn't Have A Dime (To Play The Juke Box)
My Heart Is So Absent Minded
Fukawa Kuzushi
Tombola
Ciao
The Dancing Geisha Party Inside Gion
Facing This Way