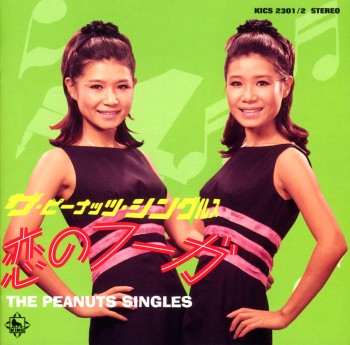 © 2002,2014 Lawrence Tuczynski
Title
The Peanuts Singles - Koino Fugue
CD Label
King Record Co., Ltd.
CD Number
KICS-2301/2
Music by:
The Peanuts (Emi & Yumi Ito)
Number of tracks
Disc 1: 18
Disc 2: 18
Running time
Disc 1: 53:47
Disc 2: 51:20
Number of discs
2
Year of release/manufacture
05-28-1999
REVIEW

April 26, 2002

Again, this 2 CD set is made of up more singles put out by The Peanuts. Disc 1 contains the "A" sides and Disc 2 contains the "B" sides. This is the way all 4 volumes are handled. There are no songs here from "Mothra". Volume 3 here is back to 18 tracks per disc. The running time is longer than the previous two versions with both discs coming in at over 50 minutes each. These discs have a couple of Christmas tunes, a few interesting covers of US and British tunes and a bunch of Italian songs.

I have always enjoyed the singing and harmonies of these women in the "Mothra films which is why I sought out more CD's by them. The songs on this CD are a mixture of Japanese, Japanese with some English, some English and possibly a few other languages. I find their music fun and relaxing to listen to and some of the cover versions of US pop hits can be amusing.

If you like soft pop from the 50's & 60's then you may enjoy this CD. It's the kind of soft pop done by U.S. artists before the British Invasion of the mid 60's. I enjoyed this CD as well as the others on this site. One word of warning, several of the songs are repeated on more than one CD on this site. None of these four (4) volumes has any repeated tracks.
The Peanuts Singles - Koino Fugue (Romantic Fugue)
Translations courtesy of John Cassidy
Disc 1

Tie Me Kangaroo Down Sport
Candy Moon
June Bride
The Smiling Face Of The Blue Sky
Una Sera Di Tokyo
My Love
Wo Ist Der Boy, Den Es Zweimal Gibt?
Returning Right Away
On Your Chest
This Little Bird
When It Becomes Tomorrow
Love Is In Eternity
Sugar Candy
Roman Rain
Tokyo Blue Rain
Romantic Fugue
Romantic Ophelia
Romantic Rondo
Disc 2

Non Monsieur
Dominique
Una Lacrima Sur Viso
Poetry In Motion
Non Sapivo
La Ragazza Di Bube
Souvernir Aus Tokyo
Donna Donna
Since You Don't Care
Red Roses For A Blue Lady
Una E'Charpe, Une Rose
In Un Fiore
Spanish Flea
The Silver Colored Street
Picking The Flowers Of Happiness
Without Separation
Finale Of Love
Praying To Love