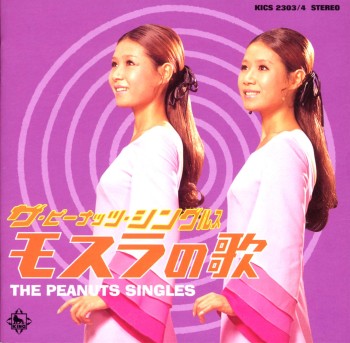 © 2002, 2014 Lawrence Tuczynski
Title
The Peanuts Singles - Mothra No Uta
(Song Of Mothra)
CD Label
King Record Co., Ltd.
CD Number
KICS-2303/4
Music by:
The Peanuts (Emi & Yumi Ito)
Number of tracks
Disc 1: 18
Disc 2: 18
Running time
Disc 1: 62:01
Disc 2: 60:52
Number of discs
2
Year of release/manufacture
05-28-1999
REVIEW

April 26, 2002

This 4th volume 2 CD contains more singles put out by The Peanuts. Disc 1 contains the "A" sides and Disc 2 contains the "B" sides. Track 18 on both discs are from "Mothra". This set contains the longest running times of any of these "Singles" sets with both discs here clocking in at over an hour each.

This set had the least number of songs I recognized and had a more 70's flavor to it than the previous volumes. I have always enjoyed the singing and harmonies of these women in the "Mothra films which is why I sought out more CD's by them. The songs on this CD are a mixture of Japanese, Japanese with some English, some English and possibly a few other languages. I find their music fun and relaxing to listen to and some of the cover versions of US pop hits can be amusing.

If you enjoy soft pop from the 50's & 60's and 70's funk, then you may enjoy this CD. The songs here are done in a soft pop style done by U.S. artists in the 60's with some of the funk style of the 70's. I enjoyed this CD as well as the others on this site. One word of warning, several of the songs are repeated on more than one CD on this site. There are no repeated tracks on any of these four (4) volumes of "Singles" discs with the exception of "The Girls From Infant Island" that also appears on Volume 1.
The Peanuts Singles - Mothra No Uta (Song Of Mothra)
Translations courtesy of John Cassidy
Disc 1

The Glass Castle
The Sad Tango
The Sorrowful Valentino
Picking Wild Strawberries
World Of Men And Women
The Woman Of Tokyo
The Woman Of Osaka
In Calmness
The Woman Of San Francisco
The Woman Of Rio
Goodbye So Soon
Behind The Ring
Desert Of Passion
Rumor Becomes A Spirit
Whereabouts Of Love
It's Over, Dear
The Fickle Guy
The Song Of Mothra
Disc 2

Love Only Once
Farewell To A Lovely Person
A Romance That Vanishes Into The Sun
About Going
Vow Of Happiness
The Time When Love Has Ended
The Pale Rose
Romance Of The Northern Country
Lonely Hong Kong
Romantic Carnival
The Night Train
The Last Convenience
Time, In Case
One Person's Livelihood
A Goodbye Is Smiling
The Seasons Go Around
Profile
The Girls Of Infant Island