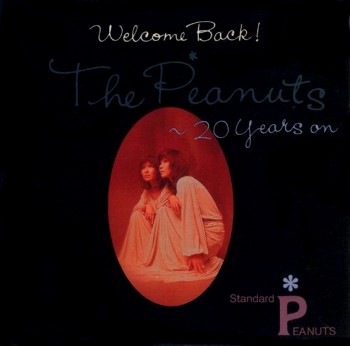 © 2003 Lawrence Tuczynski
| | |
| --- | --- |
| Title | WELCOME BACK! THE PEANUTS ~ 20 YEARS ON - Standard Peanuts |
| CD Label | King Record Co., Ltd. |
| CD Number | KICS-546 |
| Music by: | The Peanuts (Emi & Yumi Ito) |
| Number of tracks | 20 |
| Running time | 55:28 |
| Number of discs | 1 |
| Year of release/manufacture | 03-23-1996 |
REVIEW

March 22, 2003

This is a very enjoyable, soft pop set of tunes by The Peanuts. The nice part is that most of the songs are sung in English and will be very familiar to people who grew up in the 1960's or listen to a lot of the soft, mellow pop tunes of the 1960's. Hard to find but enjoyable if you like soft pop. The sound is almost like you would hear live in a lounge somewhere during that period of time.

From looking at the research Sam Scali did for the Discography Page it would seem this is only one of several CD's in a series that was released in 1996. Unfortunately I am sure they are all out of print and will be hard to find. My own copy is a CDR made for me in order to put it up on the site.
20 YEARS ON - Standard Peanuts
Mockin' Bird Hill
Pretend
My Heart Cries For You
La La Lu
The Lonely One
Too Young
I'll See You In My Dreams
Blue Canary
Come On-A My House
Des Gens Sans Importance
Tennssee Waltz*
Gelsomina
Tammy
Sentimental Journey
Mona Risa*
Banbino*
A Guy Is A Guy
Summertime In Venice
Vaya Con Dios
* Note:All I can say is nice try on the English translations for these song titles. This is the way they are spelled on the back of the CD. Naturally Tennssee should be Tennessee, Mona Risa should be Mona Lisa and Banbino should be Bambino.