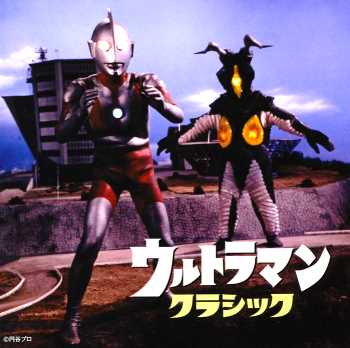 © 2008 Lawrence Tuczynski
Scans & info provided by John M Emmons
| | |
| --- | --- |
| Title | Ultraman Classic |
| CD Label | King International Inc. |
| CD Number | KKCC 3016 |
| Music by: | Various |
| Number of tracks | 8 |
| Running time | 51:43 |
| Number of discs | 1 |
| Year of release/manufacture | February 7, 2007 |
REVIEW

April 03, 2008

Review by John M Emmons

This is a compilation of classical music used in Ultraseven, Return of Ultraman, and Ultraman Ace.

I don't listen to a lot of classical music, but I enjoyed listening to this album. It offers a nice selection of music, ranging from Bach to Tchaikovsky. The most recognizable track on this CD is Mendelssohn's "Wedding March."

If you're a fan of classical music and Ultraman, then I'd recommend this album. If you're only interested in the music of Kunio Miyauchi and Toru Fuyuki, then you'll probably want to avoid this album.

Thanks to Google Translation and Wikipedia, I was able to figure out the titles of the classical pieces used in this album.
Ultraman Classic (KKCC 3016)
English track title translations courtesy of John Emmons & Google
Piano Concerto in A minor, Op.54 Allegro affettuoso (A minor)
composed by Robert Schumann
performed by Berlin Radio Symphony Orchestra
Kaiser-Walzer op. 437 (Emperor Waltz)
composed by Johann Sebastian Strauss
performed by Staatskapelle Dresden (Dresden Shakespeare ?)
Serenade for Strings in C major, Op. 48 Second Movement
composed by Pyotr Tchaikovsky
performed by Staatskapelle Dresden (Dresden Shakespeare ?)
"Faust" Ballet Music: Danse Antique (Allegretto)
composed by Charles Gounod
performed by the London Symphony Orchestra
"Faust" Ballet Music: Variations du Miroir (Allegretto)
composed by Charles Gounod
performed by the London Symphony Orchestra
"Wedding March" Incidental music from "A Midsummer Night's Dream"
composed by Felix Mendelssohn
performed by Staatskapelle Dresden (Dresden Shakespeare ?)
Partita No.3 in E Major, BWV 1006 Preludio (Prelude)
composed by Johann Sebastian Bach
performed by Karl Suske
Concert for Harp, Flute, and Orchestra in C major (K.299)
Movement One: Allegro
composed by Wolfgang Mozart
performed by Staatskapelle Dresden (Dresden Shakespeare ?)