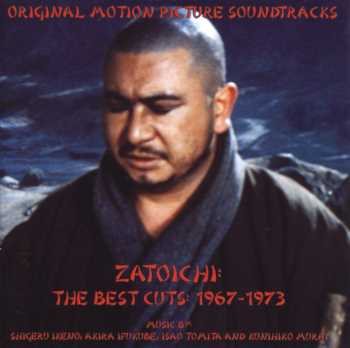 © 2009 Lawrence Tuczynski
Title:
ZATOICHI: The Best Cuts: 1967-1973
CD Label:
La-La Land Records Inc.
CD Number:
LLLCD-1102
Music by:
Akira Ifukube
Shigeru Ikeno
Isao Tomita
Kunihiko Murai
Number of tracks:
31
Running time:
47:08
Number of discs:
1
Year of release/manufacture:
August 25, 2009
REVIEW

November 03, 2009

Now available as a limited edition of 1500 units from La-La Land Records at: http://www.lalalandrecords.com/Zatoichi.html.

From the web site: Presenting original soundtrack music from Toho's legendary "blind swordsman" series of ZATOICHI feature films. Famed GODZILLA composer Akira Ifukube, along with Shigeru Ikeno, Isao Tomita and Kunihiko Murai, provide the influential music on ZATOCHI – THE BEST CUTS (1967-1973): LIMITED EDITION, a compilation of dynamic original recordings from the ZATOCIHI films released between 1967-1973. This compilation was assembled from remastered elements from the Toho Studios' vaults. In-depth liner notes by Randall Larson take you behind the scenes of The Blind Swordsman and his musical legacy. A Limited Edition of 1500 Units.

Many of the trcks from this disc are the same as 1998 King Records release KICA-3025 found elsewhere on this site at http://www.godzillamonstermusic.com/zatoichi3.htm. La-La Land, as always, has put together a great disc of hard to find soundtrack items covering cuts from many of the well know Zatoichi movies. A great bargain at $19.98.

An additional review of this disc can be found at Toho Kingdom at http://www.tohokingdom.com/cd/zatoichi_best_cuts_lala.htm.
ZATOICHI: The Best Cuts: 1967-1973
Zatoichi the Outlaw (1967) - Sei Ikeno

Main Title (1:08)
Farming Song (1:07)
Asagorou (:56)
Theme Song to "Zatoichi" (:57)

Zatoichi Meets Yojimbo (1970) - Akira Ifukube

Daiei Mark/Main Title (3:16)

Zatoichi Goes to the Fire Festival (1970) - Isao Tomita

Main Title (:13)
Title Back (1:11)
The Dark Shogun (1:11)
Great Sword Battle On The Oil Ship (2:13)
Zatoichi Falls Into A Trap (1:17)
Zatoichi And The Dark Shogun (1:50)
Conclusion - Ichi And The Nameless Ronin (1:09)
Ichi And Okiyo (1:40)
Ending (:46)

Zatoichi Meets the One-Armed Swordsman (1971) - Isao Tomita

Dainichi Mark (:22)
Main Title (1:13)
The Tragic Chinaman/Genocide (2:12)
The Invincible Chinese Sword (1:24)
Ichi And Oyone (1:10)
Wong Gong and Kakuzen (1:46)
Break! Chinese Sword/Ending (4:57)

Zatoichi at Large (1972) - Kunihiko Murai

Main Theme (1:20)

Zatoichi in Desperation (1972) - Kunihiko Murai

Ending (1:37)

Zatoichi's Conspiracy (1973) - Akira Ifukube

Zatoichi Takes Edo Highway (:51)
Main Title (1:46)
Ichi And Omiyo – Encounter (3:58)
Ichi And Omiyo - Farewell (1:29)
The Wounded People/Shinbei's Conspiracy (1:00)
Zatoichi - Victimization In Kasama (1:35)
Shinbei's Final Moment (:48)
Ending (:46)