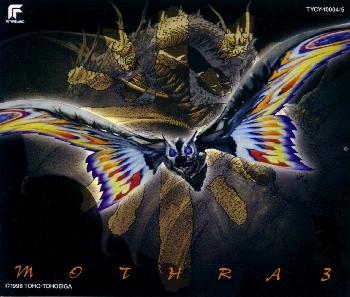 © 1999 Lawrence Tuczynski
Title:
Mothra 3
Japanese Title:
Mosura 3
CD Label:
Futureland
CD Number:
TYCY-10004/5
Music by:
Yuji Koseki
Words by:
Tomoyuki Tanaka, Shinichi Sekizawa, Itaro Honda
Number of tracks:
Disc 1 - 29
Disc 2 - 34
Running time:
Disc 1 - 40:49
Disc 2 - 50:48
Number of discs:
2
Year of release/manufacture:
1998
Year movie released in Japan:
Dec. 1998
Year movie releaded in US:
Not released in the U.S.
REVIEW

This 2 CD set is an expanded version of the single CD TYCY-10002 without the CD-ROM movie trailer portion. This CD is a good mix of action music, softer romantic music and familiar Mothra themes. Naturally with an expanded version of 63 tracks across two CD's you get a fair amount of repetition and several variations of the same songs. Tracks 17 - 28 on Disc 2 are mainly short sound effects from the film. Also on Disc 2 on tracks 29- 34 we get dialogue from the film in Japanese with the music mostly in the background.

If you can find it and afford it, go for the two disc set. It's more complete with some neat extras like the sound effects and movie dialogue. You really won't miss the CD-ROM movie trailer content on the single disc. However if you're a little more budget minded and mostly after the music go for the single CD. You won't be saving much money on the single disc because they jacked up the price on this CD due to the so-called "Enhanced" nature of the single CD with CD-ROM content that we could easily have done without. No matter which way you go you really can't go wrong. Both discs are good and have some really nice new music. Only fanatics like me really need both CD's.


English Translation: 	Mothra 3: The Complete Edition
Japanese Title:  	Mosura 3 Orijinaru Saundotorakku 

Words by: 	Tomoyuki Tanaka, Shinichi Sekizawa, Itaro Honda

Music by: 	Yuji Koseki 

Arranged by: 	Toshiyuki Watanabe 

Disc 1
1.	Opening - The Legend Unveiled
2.	The Legend of the Metal
3.	Eerie Meteor Cluster(s)
4.	The Meteorite Mystery
5.	Huge Shadow(s)
6.	The Appearance of the Giant Monster(s)
7.	Mothra's Song (for the main version *2)
8.	The Return of the Invincible Foe(s)
9.	The Mystery of the Dome II
10.	Mothra Appears
11.	The Bizarre Occurrence at Lora
12.	The Disappearing Children
13.	The Mystery of the Dome III
14.	King Ghidorah in Flight
15.	The Encounter with Mothra
16.	The Sad Sound of the Blade
17.	King Ghidorah in a Frenzy
18.	Resolve:  Journey into Space-Time
19.	Howler *3 Mothra (Moru *3 Ver. for the main version *2)
20.	Deathbed Request
21.	Flying Back 130,000,000 Years in Time
22.	The Mystery of the Dome
23.	Cretaceous Battle 1 (first half)
24.	Cretaceous Battle 1 (second half)
25.	Putting Life on the Line
26.	Bizarre Tail(s)
27.	Cretaceous Battle 2
28.	Howler *3 Mothra (Lora ver. for the main version)
29.	Mothra in Desperation

*2	Or possibly 'for this version'.
*3	This is a direct transliteration from the Japanese.	

Disc 2

1.	Requiem
2.	King Ghidorah Comes Back to Life
3.	The Tragic Battle
4.	The Appearance of the Armored Warrior(s)
5.	Last Battle
6.	The Final Transformation
7.	The Power of the Legend
8.	Ending:  The Heart Can Reach
9.	Mothra's Song
10.	The Return of the Invincible Foe(s)
11.	Mothra's Song (Karaoke)
12.	The Return of the Invincible Foe(s)
13.	Howler Mothra (Moru ver.)
14.	Howler Mothra (Moru ver.  Karaoke)
15.	Howler Mothra (Lora ver.)
16.	Howler Mothra (Lora ver.  Karaoke)
17.	Sound Effects:  King Ghidorah (Voice, Wings)
18.	Sound Effects:	 King Ghidorah [Cretaceous Type] (Voice)
19.	Sound Effects:	 King Ghidorah (Beams)
20.	Sound Effects:	 King Ghidorah [Cretaceous Type] (Beams)
21.	Sound Effects:	 Mothra (Voice, Beams A, Beams B, Wing Beams, 
                                 Wing Sounds A, Wing Sounds B)
22.	Sound Effects:	 Armored Mothra (Voice, Wing Sounds)
23.	Sound Effects:	 Fairy(ies) (Voice, Beams)
24.	Sound Effects:	 Garugaru III (Voice, Beams)
25.	Sound Effects:	 Cretaceous Dinosaurs 
26.	Sound Effects:	 Mothra's Conversation(s)
27.	Sound Effects:	 Heartbeat at the Dome
28.	Sound Effects:	 King Ghidorah's Wing Beams
29. 	Scene 71 (Used Track [Resolution~ Departure To Space-time])
30. 	Scene 76 (Used Track [Howler Mothra] original Moru version)
31. 	Scene 82 (Used Track [Flight to 130 000 000 years ago])
32. 	Scene 92 (Used Track [Cretaceous Battle 1] first half)
33. 	Scene 102(Used Track [Cretaceous Battle 2])
34. 	Scene 103(Used Track [Howler Mothra] original Lora version)