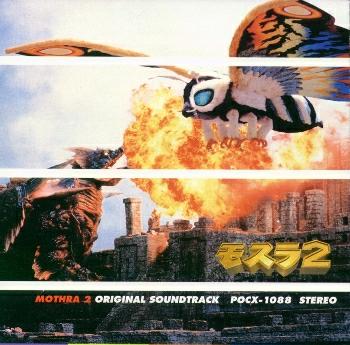 © 2000, 2005 Lawrence Tuczynski
Title
Mothra 2
Japanese Title
Mosura 2
Movie also known as:
Rebirth Of Mothra II
CD Label
PolyGram
CD Number
POCX-1088
Music by:
Toshiyuki Watanabe
Number of tracks
16
Running time
32:40
Number of discs
1
Year of release/manufacture
1997
Year Movie Released in Japan
1997
Year Movie Released in U.S.
VHS Tape - Aug. 3, 1999
DVD Released in U.S.:
Double DVD, Columbia/Tri-Star #04691, Feb. 2000
Also has 1996 "Rebirth Of Mothra"
REVIEW

May 17, 2000

We have some really nice music on this CD with a very large orchestra sound to it. I enjoyed the music on this CD and found it to be very listenable. We get action music and some mellow music here that definitely sounds as if it belongs in a children's movie. No hard, sharp edged tunes here but rather rounded, more mellow paced tunes. Quite a few of the tracks will have you picturing flying or floating over the landscape. The hopping, furbee looking creature known as Gohgo has a nice recurring theme throughout the CD. On Track # 7 we get a really majestic updated version of the original Mothra song sung here by the Elias sisters who are not twins. Track # 8 is a standout fast paced march. Track # 9 gives us another fast paced tune with some vocals from the Mothra song thrown in.

If you can find this CD it's well worth picking up. There is some really nice music here even though I preferred the music to the last movie a bit more.

Mothra 2
Japanese Title:  Mosura 2

 1	Opening Title
 2	At the Cape
 3	The Girl and Gohgo Meet
 4	Into a World of Adventure I
 5	Into a World of Adventure II - Nirai Kanai
 6	The Myth Lives On
 7	7-1  In Order to Protect the Planet   *1   
        7-2  Mothra's Song   
 8	Dagahra Comes Ashore
 9	9-1  Prepared to Die    
        9-2 Mothra's Song    
        9-3  To the Bottom of the Sea
10	Mothra Pushed to the Brink
11	Princess Yuna's Theme
12	Gohgo: Along with the Miracle(s)
13	The Miraculous Transformation
14	Armageddon at the Bottom of the Sea
15	The End of the Myth
16	To the Children of a New Civilization

*1  Or 'In Order to Protect the Star'