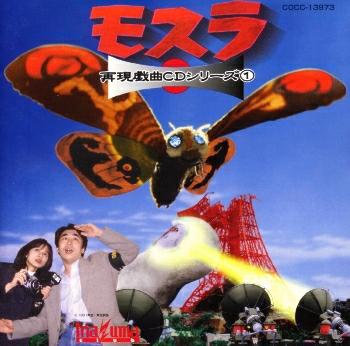 © 2000 Lawrence Tuczynski
| | |
| --- | --- |
| Title | Mothra '61: Reenacted Plays - The CD Series |
| Japanese Title | Mosura '61: Saigen Gikyoku CD Sirizu |
| CD Label | Columbia Japan |
| CD Number | COCC-13973 |
| Music by: | Yuji Koseki |
| Number of tracks | 14 |
| Running time | 54:44 |
| Number of discs | 1 |
| Year of release/manufacture | 1998 |
| Year Movie Released in Japan | 1961 |
| Year Movie Released in U.S. | 1962 |
REVIEW


June 5, 2000

If I spoke fluent Japanese I might have enjoyed this disc.
I won this CD on an eBay auction and knew nothing about
it prior to winning. The CD was listed as Mothra '61 (Remake).
The CD is mainly made up of what sounds like a play version
of Mothra. You have a Japanese narrator and then what sounds
like dialogue and sound effects on most tracks.

The only music tracks are # 1, 2, 6 & 9. Tracks # 4 & 7 have
some background music.

Unless you speak Japanese fluently, I can only recommend this
CD to completists if you can find it.



English Title:		Mothra '61:  Reenacted Plays - The CD Series 
Japanese Title:		Mosura '61: Saigen Gikyoku CD Sirizu 

Tracks
1.	Prologue
2.	Main Title
3.	The Mystery of Infant Island
4.	Exploring Infant Island
5.	The Little Beauty in Japan
6.	Mothra's Song
7.	Mothra Awakes
8.	Mothra Heads to Japan
9.	The Girl from Infant (Island)
10.	Mothra Appears in Japan
11.	Mothra Attacks!
12.	Mothra Grows Wings
13.	Off to the Land of Rosilica *1
14.	Epilogue

The Cast
Zenichiro Fukuda (The Good Snapping Turtle *2):		Tomokazu Seki
Clark Nelson:						Hirokazu Yamadera
Dr. Nobuichi *3 Nakajo *4:				Nachi Nozawa
The Little Beauty:					Yuka Imai
							Miki Nagasawa
Michi Hanamura (Camerawoman):				Miwa Yanagihara
Sadanori Amano (Editor):				Seizo Kato
Dr. Harada:						Masaaki Okabe
Danny:							Koichi Tojika
Raf (Leader of the Exploration Team):			Hiroshi Kawaguchi

*1	This is a direct transliteration of the Japanese.
*2	This is a literal transliteration.  Meaning unclear from context. 
*3	Another likely reading for this character is 'Masakazu'.
*4	Another likely reading for this character is 'Chujo'.