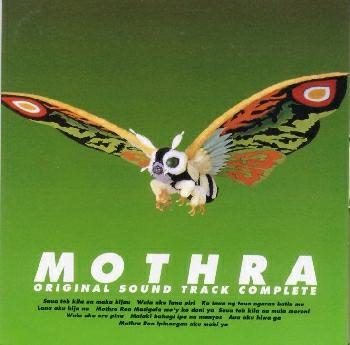 © 1999 Lawrence Tuczynski
Title
Mothra
Japanese Title
Mosura
Movie also known as:
Rebirth Of Mothra
CD Label
Pony Canyon
CD Number
PCCR-00243
Music by:
Toshiyuki Watanabe
Number of tracks
Disc 1 - 31
Disc 2 - 19
Running time
Disc 1 - 46:08
Disc 2 - 44:25
Number of discs
2
Year of release/manufacture
1996
Year Movie Released in Japan
1996
Year Movie Released in U.S.
VHS Tape - Aug. 3, 1999
DVD Released in U.S.:
Double DVD, Columbia/Tri-Star #04691, Feb. 2000
Also has 1997 "Rebirth Of Mothra II"
REVIEW

May 18, 2000

This is the two disc soundtrack to the first of the new Mothra movies known in the US as "The Rebirth Of Mothra". These movies are geared more towards children than kaiju loving adults but I still enjoyed the movie.

The single disc has 21 tracks while this two CD set has a combined 40 tracks. Naturally this 2 CD set is more complete and also features sound effects and a few karaoke versions of songs. While the single disc, # PCCR-00244, seemed to concentrate more on the high profile action tunes, on this two CD set we also get much of the slower suspense type tracks. Some of the music on this 2 CD set reminded me of music in the U.S. TV mini-series "V". That TV series was about a race of lizardlike aliens disguised as humanoids trying to take over the Earth in the ruse of being our friends. Track # 19 on Disc 1 is the female vocal of the "Mothra" song. Track # 23 is the other vocal track devoted to Mothra that is a different new slower song. The vocal tracks on Disc 2 are "Mothraleo" on tracks # 5 & # 15. The final track, # 19, is made up of various sound effects.

Surprisingly there doesn't seem to be that much duplication between this set of the material and the material on the single disc. They act more like companion pieces to each other. I enjoyed listening to this 2 CD set but must admit that as a stand-alone listening experience I much preferred the single CD set. There is also a let less repetition of songs on the single CD.

Mothra Complete Original Soundtrack

DISC 1

1	Main Title
2	Rock Patch
3	The Broken Seal
4	Elias Sets Off              
5	Man's Doing
6	Psychokinesis
7	Berubera and the Giant Tree *1
8	Elias and the Giant Tree    
9	LDK Battle 1
10	LDK Battle 2
11	LDK Battle 3
12	The Legend of Death Ghidora
13	The Beginning of the Adventurous Journey
14	Dynamite Bulldozer
15	Kite Fight                  *1
16	The Appearance of Death Ghidora
17	The Beautiful Guardian Spirit of the Planets
18	Mothra's Song: Instrumental
19	Mothra's Song
20	The Appearance of Mothra
21	Mothra vs. Death Ghidora 1
22	The Egg's Will
23	Song of Prayer
24	Mothra vs. Death Ghidorah 2
25	The Power of the Shield
26	The Baby's Will
27	Baby vs. Death Ghidora
28	Mothra in Danger
29	The Bond                
30	Escape
31	Return to the Sea

*1  This is a direct transliteration from the Japanese.
 
DISC 2

1	In Order To Be Reborn
2	Death Ghidora Soars
3	Reincarnation Island
4	TV News Titles
5	Mothraleo                 
6	The Sacred Emergence
7	Flight
8	New Mothra's Battle
9	The Seal
10	The Good Earth Bounces Back
11	Thank you, Mothra
12	Ending
13	Baby's Will (Full Version)
14	The Seal (Full Version)
15	Mothraleo (Infant Language Version)  
16	Mothra's Song (Karaoke Version)
17	Song of Prayer (Karaoke Version)
18	Mothraleo (Karaoke Version)          
19	Sound Effects
	Mothra			Long cries			(2)
				Cries				(2)
	Baby Mothra		Cries				(2)
				Spark before beam emerges	(2)
				Beam				(1)
	Death Ghidorah		Cries				(2)
				Flame				(2)
	Garugaru 		Cries				(2)
				Throat-Ringing Voice		(1)
				Beam				(2)
	Fairy			Cries				(1)
				Beam				(2)
	Newborn Mothra		Cries				(2)
				Shuttlecock Sound	*2	(2)
				Beam				(2)

*2  Alternative Translation:  Blade Sound