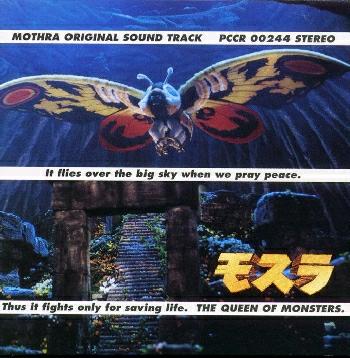 © 1999 Lawrence Tuczynski
Title
Mothra
Japanese Title
Mosura
Movie also known as:
Rebirth Of Mothra
CD Label
Pony Canyon Japan
CD Number
PCCR-00244
Music by:
Toshiyuki Watanabe
Number of tracks
22
Running time
47:23
Number of discs
1
Year of release/manufacture
1996
Year Movie Released in Japan
1996
Year Movie Released in U.S.
VHS Tape - Aug. 3, 1999
DVD Released in U.S.:
Double DVD, Columbia/Tri-Star #04691, Feb. 2000
Also has 1997 "Rebirth Of Mothra II"
REVIEW

May 17, 2000

This is the single disc soundtrack to the first of the new Mothra movies known in the US as "The Rebirth Of Mothra". These movies are geared more towards children than kaiju loving adults but I still enjoyed the movie.

The music here is great and in my opinion surpasses the movie it's for. We no longer have twin fairies but instead have fairy sisters known as the Elias. Most of this score features grand, really upbeat action music and marches. Track # 5 is a very new, upbeat version of the original Mothra song sung by the Elias. Track # 9 gives us a new more mellow tribute song to Mothra also sung by the girls. There is also a nice, romantic sounding recurring Mothra theme sprinkled throughout the CD. Track # 14 is another very beautifully done infectious vocal track.

While this CD won't make you forget the Akira Ifukube originals, Toshiyuki Watanabe has done a really nice job of scoring this movie and giving us a very listenable CD that holds up well as a stand-alone piece.


Mothra Original Soundtrack PCCR 00244

1	Main Title
2	Superhigh Speed Battle
3	The Beginning of the Adventurous Journey 
4	The Beautiful Guardian Spirit of the Planets
5	Mothra's Song
6	The 65 Million Year Old War Anew
7	The Evil Beast of Destruction
8	Pray With Me
9	Song of Prayer
10	Baby's Will
11	Battle With the Enemy of Life
12	Back to Sea
13	Song of Prayer (Instrumental)
14	Mothraleo           *1
15	The Sacred Emergence
16	Birth of the New Mothra
17	Fight to Defend
18	The Seal
19	Moment of Life
20	Forever Friends
21	End Title

*1  This is a direct transliteration from the Japanese