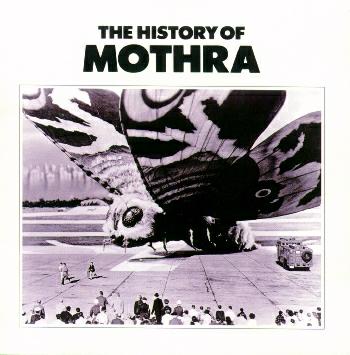 © 2000 Lawrence Tuczynski
| | |
| --- | --- |
| Title | The History Of Mothra |
| CD Label | Apollon |
| CD Number | APCF-5129 |
| Music by: | Various Artists |
| Number of tracks | 24 |
| Running time | 55:57 |
| Number of discs | 1 |
| Year of release/manufacture | 1992 |
| | |
| --- | --- |
| REVIEW | What can I say. If you're a big Mothra fan and especially if you don't already have much in the way of Mothra music, then this is a must have CD. This is basically a Mothra Greatest Hits CD with all the music you love from the early Mothra and Godzilla films that featured Mothra. No bad tracks here and the sound quality is excellant. As with the Futureland releases, this music is in MONO, not STEREO but still sounds great. |

The History of Mothra

From "Mothra" (1961 Release)
1.	Main Theme
2.	Mothra's Song (The Peanuts)
3.	The Birth of Mothra
4.	The Infant Girl (The Peanuts)
5.	Mothra Attacks (The Peanuts)
6.	Ending

From "Godzilla vs. The Thing" (1964 Release)
7.	Main Theme
8.	The Sacred Fountain (The Peanuts)
9.	Mothra Sets Off
10.	Plan B: Electrocute Godzilla
11.	Mahala Mothra (The Peanuts)
12.	Ending

From "Ghidrah, The Three Headed Monster" (1964 Release)
13.	Main Theme
14.	The Giant Meteor in Kurobe Valley
15.	Let's Try to be Happy (The Peanuts)
16.	King Ghidora Attacks
17.	The Three Monsters Battle It Out
18.	Ending

From "Godzilla Versus The Sea Monster" (1966 Release)
19.	Mothra's Song (Pair Bambi)
20.	Ebirah's Theme
21.	On Retchi *1 Island
22.	The Plan to Drive Back Ebirah
23.	The Destruction of "Red Bamboo"
24.	The Arrival of Mothra: Ending

*1	This is a direct transliteration from the Japanese.  
	Could also be translated as "Retch" or "Wretch"?