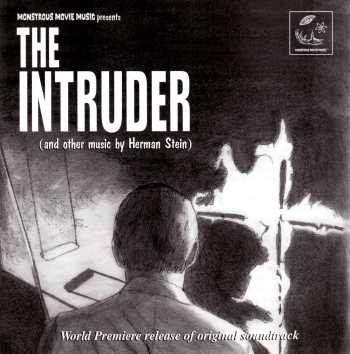 © 2013 Lawrence Tuczynski
| | |
| --- | --- |
| Title | The Intruder (and other music by Herman Stein) |
| CD Label | Monstrous Movie Music |
| CD Number | MMM-1956 |
| Music Composed by: | Herman Stein |
| Music Produced by: | David Schecter & Kathleen Mayne |
| Number of tracks | 45 |
| Running time | 52:09 |
| Number of discs | 1 |
| Year of release/manufacture | January 16, 2008 |
| Year of movie release | The Intruder - May 14, 1962 |
REVIEW

January 26, 2012

For more information or to order, go to: Monstrous Movie Music at: http://www.mmmrecordings.com/

This CD is a limited edition of 3,000 copies.

For more information on Herman Stein go to IMDB at: http://www.imdb.com/name/nm0006299/?ref_=fn_al_nm_1. He composed music for many well known TV series like "The Time Tunnel", "Lost In Space", "Voyage To The Bottom Of The Sea", and many others as well as music for movies. He was also an uncredited composer for the movie "The Monolith Monsters".

"The Intruder" was a movie starring a young William Shatner (later as the famous Captain Kirk of Star Trek) as a mysterious figure who fights integration in a small town by stirring up a racist mob.
The Intruder (and other music by Herman Stein)[MMM-1956]
Track titles courtesy of Monstrous Movie Music at: http://www.mmmrecordings.com/

THE INTRUDER (1961)
1 - 2:      Main Title  1:35 / Gun Play  :14
3 - 4:      Little Dope  1:03 / Stranger  1:19
5 - 6:      It's a Law  :09 / Disturbed  :49
7 - 8:      Reprise  1:02 / Trouble Later  :16
9 - 10:     Like Noise  2:35 / Parked  :50
11:         Pray  :28 / Pre-March  :04
12 - 13:    Guts  3:29 / Inciter  1:00
14 - 15:    Editorial  :21 / Klan  1:47
16 - 17:    Burning Cross  :20 / Conscience  :16
18 - 19:    Bombing  :17 / Casualty  :32
20 - 21:    It's Over  :22 / Defeated  :32
22 - 23:    Pre-Guts  :11 / More Guts  1:05
24 - 25:    Post Guts  :08 / Hospital  2:35 
26 - 27:    Plot  :57 / Framed  2:18
28 - 29:    Doomed  :04 / Sacrifice  :28
30 - 31:    Lynch Mob  1:10 / End Title  :30
 

CAREER FOR TWO (1951)
32 - 37:    Career For Two  6:48

MISCELLANEOUS PIECES
38:            Unused Main Title  1:40
39:            Unused underscore  2:03
40:            Persian Beguine  3:03
 

"SUITE FOR MARIO"
41 - 44:    "Suite for Mario"  7:41
                 (Brian Farrell, piano)

ANOTHER MISCELLANEOUS PIECE!
45:            Pumpernickel Polka  2:11