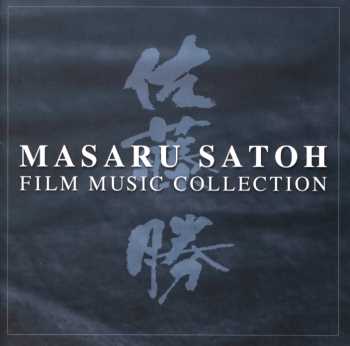 © 2010, 2014 Lawrence Tuczynski
Title
Film Music Collection
CD Label
Toho Music Corporation
CD Number
MS-1928-1~2
Music by:
Masau Satoh
Number of tracks
Disc 1 - 21
Disc 2 - 24
Running time
Disc 1: 75:08
Disc 2: 71:36
Number of discs
2
Year of release/manufacture
December 23, 2009
REVIEW

January 17, 2010

10th Anniversary of Maestro Masaru Sato's death. Sato's best of album release for this anniversary! Contains original soundtrack from 37 films plus bonus tracks. 45 tracks total. An Ark Soundtrack Square Exclusive.

Since many of Masaru Satoh's CD's are out of print and almost impossible to find, grab this set while it's still available.
Film Music Collection by Masau Satoh (MS-1928-1~2)
Transaltions courtesy of the Screen Archives web site at: http://www.screenarchives.com/title_detail.cfm/ID/13291/MASARU-SATOH-FILM-MUSIC-COLLECTION-2CD-PRE-ORDER/.
DISC 1

YOJIMBO (Suite)
SANJURO (Wakazamurai Theme)
GOBANCHO YUGIRIRO (Ending)
JAKOMAN AND TETSU (Nishin-ryo)
RED BEARED (Main Theme)
HUMAN BULLET (Suite)
SAMURAI BANNERS (Suite)
BATTLE OF THE JAPAN SEA (Main Theme)
RED LION (Suite)
BAND OF ASSASSINS (Main Title)
CITY OF BEAST (aka BEAST CAPITAL) (Sogaisha no Komori Uta, Theme)
MEN AND WAR (Main Theme)
MEN AND WAR (Love Theme)
WHERE SPRING COMES LATE (Main Title)
OKINAWA KESSEN (aka THE BATTLE OF OKINAWA) (Ending)
SAPPORO WINTER OLYMPICS (Ending)
HOME FROM THE SEA (Kaze no Funauta -Instrumental)
SENILE PERSON

Bonus Tracks:

TOPPU ELEGY (Lyric: Toshiya Fujino, Sung by Masaru Sato)
ANO KORO KONO KORO (Lyric and Sung by Masaru Sato)
YOMOYO TAKARAKA NI UTAE! (Toho Eiga Tomo no Kai -Kaika)
(Lyric: Emi Yamada, Sung by Victor Female Choir)
DISC 2

LONG JOURNEY INTO LOVE (Theme A)
STRAY DOG (Theme A)
TIDAL WAVE (Theme I)
BATTLE CRY (aka GO FOR BROKE) (Ransei)
WAGA SEISHUN NO TOKI (Winter Tango)
THE ALASKA STORY (Alaska no Sanga)
THE ALASKA STORY (Escape)
THE YELLOW HANDKERCHIEF (Ending)
IHATOVE NO AKAI YANE (Kaze no Koe, Ending)
KOTEI NO INAI HACHIGATSU (Allegro)
KOTEI NO INAI HACHIGATSU (Andante)
BLUE CHRISTMAS (Blue Christmas Love Theme)
OH! NOMUGI PASS (Suite)
THE LAST GAME (Tooi Sora no Bolero)
A DISTANT CRY FROM SPRING (Ending)
TOWARD THE TERRA (Kunan e no Tabidachi)
YOHKIRO (THE GEISHA) (Main Title)
THE YAKUZA WIVES (Main Title)
DUN-HUANG (THE SILK ROAD) (Kibasen)
HIMEYURI LILY TOWER (Main Title)
HIMEYURI LILY TOWER (Himeyuri no Shojo Tachi)
HIMEYURI LILY TOWER (Aru, Himeyuri no Shojo no Shi)
EAST MEETS WEST (Suite)
AME AGARU (APRES LA PLUIE) (End Roll)