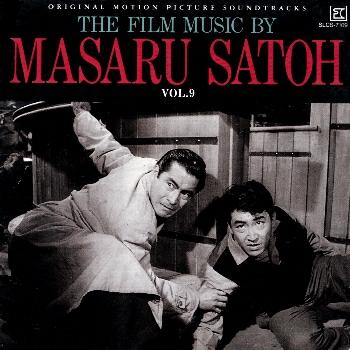 © 1999, 2014 Lawrence Tuczynski
| | |
| --- | --- |
| Title | The Film Music By Masaru Satoh Vol. 9 |
| CD Label | SLC Inc. |
| CD Number | SLCS-7109 |
| Music by: | Masaru Satoh |
| Number of tracks | 15 |
| Running time | 73:01 |
| Number of discs | 1 |
| Year of release/manufacture | 1992 |
REVIEW

Feb. 25, 2000

This is the Crime / Suspense volume in the series. The track titles and booklet pictures would seem to bear that out.

The 1st track on the CD starts off with a fast paced, jazz oriented toe tapper. As the suite moves along it changes to a smoky, blues-jazz type number and then turns into a slow paced, harmonica cowboy movie sound. Track #2 starts as a fast paced, drum laden track. It then changes to a "Fernando's Hideaway" type tune before becoming a slow jazz tune with horns and drums using brushes instead of drumsticks. The ending sounds like stripper music. That's a lot of style changes in a track just under four minutes in length. Track #3 starts as suspenseful, spy type music and then moves on to a slower pace. Track # 4 starts off with a screeching, operatic female voice with strains of what sounds like Hawaiian music in the background. It then veers off into a sci-fi sounding piece before repeating what was heard in the first part of the track. The next track is a really nice, fast paced, action / suspense piece. The rest of the CD is a good mixture of fast, uptempo music with an action / suspense feel to them mixed with slower paced tunes in the same vein. The music is well suited for spy type movies.

Except for Track #4 this was a very enjoyable and listenable CD.
REVIEW
Title: The Film Music By Masaru Satoh Vol. 9 (CRIME, SUSPENSE MOVIE VOLUME)
Japanese Title: HANZAI, SASUPENSU EIGA HAN
Cover: Toshiro Mifune (right)
Translations & notes courtesy of Jolyon Yates

Ankokugai no Taiketsu ([Underworld Showdown] aka The Last Gunfight, Gang War in the Underground, 1959, str Toshiro Mifune, Yoko Tsukasa)
Ankokugai no Dankon ([Underworld Bulletholes] aka Gangland Bullets, Underworld Bulletholes, Bulletholes in the Underground, dir Kajiro Yamamoto/Kihachi Okamoto, 1961)
Kyukei no Koya ([Global Wasteland])
Kaitei kara kita Onna (Women from the Bottom of the Sea, 1959, dir Koreyoshi Kurahara)
Shi no Jyujiro (Crossroads of Death, 1956, str Rentaro Mikuni)
Kamen no Onna (Masked Woman)
Aru Kyohaku (Blackmail, 1960, dir Koreyoshi Kurahara)
Kokuso Sezu (Sincere Accusation)
Daisan no Shikaku (Third Assassin, 1959, dir Koreyoshi Kurahara)
Muho Ichidai (Outlaw Generation)
Soshiki Boryoku / Zoku Soshiki Boryoku (Gang Violence / Gang Violence II)- Possibly 'Soshiki Boryoku: Kyodai Sakazuki, 1969, dir Junya Sato
Yoru ga Kuzureta ([The Night has Crumbled])
Ame wa Shitteita ([Rain Knew It All])
Mesu (Scalpel)
Yaju Toshi (Beast Capital, 1970, dir Jun Fukuda, str Rentaro Mikuni)