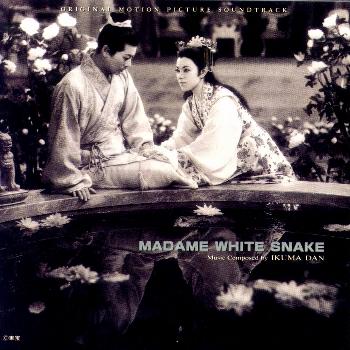 © 1999 Lawrence Tuczynski
Title
Madam White Snake
Japanese Title:
Byaku fugin no yoren
Movie also known as:
The Bewitched Love of Madame Pai
Bewitched Love of the White Wife (literal English title)
The Bewitching Love of Madame Pai
The Legend of the White Serpent(International: English title)
Madame White Snake(USA)
Pai-she chuan(Hong Kong: Mandarin title)
CD Label
SLC, Inc.
CD Number
SLCS-5068
Music by:
Ikuma Dan
Number of tracks
28
Running time
77:06
Stereo/Mono
Mono
Number of discs
1
Year of release/manufacture
1995
Year Movie Released in Japan:
1956
Year Movie Released in U.S.:
1956
REVIEW

October 21,1999

This CD was pleasant to listen to with a mix of musical styles. I have never seen this movie but based on what I've read about it, the music probably suits the material well.

Track 1 starts off with a female choral type voice and a slow lilting music that reminded me of Christmas music. By the end of the track it had progressed into something suspenceful. Others tracks reminded me of some of the music you would hear in 30's & 40's Hollywood movies mixed with a hint of traditional Japanese music. A lot of the tracks are slow paced and orchestral reminding me of the type of background music heard in "The Wizard Of Oz". There are also tracks that sound like they could have been alternate music for the jungle scenes in the original "King Kong". About half way through the disc we get some music with a mystery type feel. The last track, #28, gives us some lovely, romantic piano music with a female vocal.

All in all I found this a pleasant listening experience and just the type of CD you'd like to put on after a stressful day of work. Just sit back, close your eyes and relax.

English Title:	Madame White Snake - Original Soundtrack
Japanese Title:	Byaku Fujin No Yoren - Orijinaru Saundotorakku

Translations by Silver Bridges
 - http://www.silverbridges.com/

1.	Main Title
2.	The Encounter
3.	The Next Morning
4.	Madame Pai's Residence
5.	Kyosen and Madame Pai
6.	The Long-Cherished Desire
7.	Madame Pai's Vow
8.	Searching the House
9.	Off to Suzhou
10.	They Meet Again
11.	The Two Join Hands *2
12.	Hozan, The Holy Man
13.	Suspicious Heart
14.	Night of Discord
15.	Their Love
16.	Confrontation
17.	Festive Drinking
18.	Madame Pai's True Nature
19.	Regenerating Grass *4
20.	Escape
21.	Grief-stricken Madame Pai
22.	Kinzanji Temple
23.	Madame White Snake's Black Magic
24.	Miserable Woman
25.	Last Request
26.	Pearls of Love
27.	Ending
28.	White Bird Beauty *5

*2	i.e. 'The Two Join Hands in Matrimony'
*4	Or possible 'Regenerating Weeds'
*5	My professor friend at the Univ. of Hawaii 
	suggests that this may be someone's name in 
	which case the translation should be "Tsuna
	Shiratori" or possibly "Sho Shiratori".  My 
	original translation "White Bird Beauty" was 
	based on the meaning of the words.