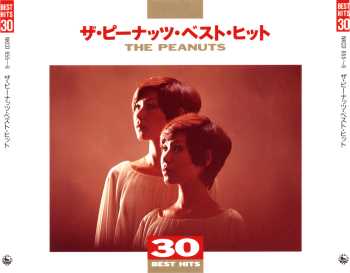 © 2008 Lawrence Tuczynski
All scans courtesy of Reed Grele
Title
The Peanuts 30 Best Hits
CD Label
King Record Co., Ltd.
CD Number
NKCD 655~6
Music by:
The Peanuts (Emi & Yumi Ito)
Number of tracks
Disc 1 - 15
Disc 2 - 15
Running time
Disc 1 - 42:57
Disc 2 - 51:30
Number of discs
2
Year of release/manufacture
1992
REVIEW

May 20, 2008

This 2 CD set contains a total of 30 tracks, 15 on each disc. It's basically just another in endless Best Of repackaging. As most who visit this site know, I'm a big Peanuts fan. With the endless repackaging going on I'm beginning to believe I now have everything they put out because every "new" CD that is released seems to contain the same music from previous CD's.

Don't get me wrong, there is certainly nothing wrong with this set but there are more comprehensive sets out there that are still available. I can only recommend this set to those who have not purchased any past greatest hits packages or who are curious about what else they have done besides the Mothra songs.
The Peanuts 30 Best Hits
(Rest of the translations coming soon)
DISC 1

Koi no Fuga
Ophelia in Love
Love Vacation
Sad 16 year old
Passion Flower
After the Ring
Passion Flower
?
?
A Light in the Window of Your Heart
?
Osaka Girl
Good-byes Take Us by Surprise
Troubling Rumors
San Francisco Girl
DISC 2

Una Sera Di Tokyo
Desert of Passion
Love Fugue
?
Tokyo Girl
Yellow Bird
?
Season of Youth
?
Castle Of Glass
?
Rio Woman
?
?
?