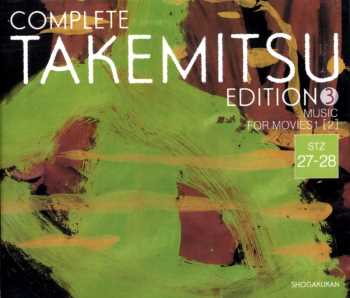 © 2006 Lawrence Tuczynski
CD Information courtesy of Rich Housh
Title
Complete Takemitsu Edition 3
Music For Movies 1 [2]
CD Label
Shogakukan Inc. & Toho Music Corp.
CD Number
STZ-27~28
Music by:
Toru Takemitsu
Number of tracks
Disc 1 : 57
Disc 2 : 35
Running time
Disc 1 - 67:46
Disc 2 - 73:51
Number of discs
2
Year of release/manufacture
2003
REVIEW

August 29, 2006

Toru Takemitsu (1930-1996) did film scores for 93 movies. These COMPLETE TAKEMITSU EDITION 3, Music For Movies sets give us many of these soundtracks. With the exception of "Kwaidan", I have personally never seen the movies from this set so can not say how well the music interacts with what's on screen. My opinions will be based on stand alone listing.

Disc 1 starts out with some strange music that reminded me of the music in parts of the original "Planet Of The Apes" movie. It then progressed into some pretty orchestral music. Slow, lilting, relaxing. It then went into some suspense type cues. There are also some vocal tracks as on the other discs. Another pleasant sounding disc that was enjoyable to listen to.

On Disc 2 some of the early tracks for "Woman In The Dunes" sounded like something out of the original "Night Of The Living Dead" movie. While there are some very short queues on this disc as on the other disc and on the 1st set in the series, this disc also contains several long tracks in the "Kwaidan" section clocking in at over 11,6 and 5 minutes each. The cues in most sections were hard to listen to as stand alone music but most likely worked well in the film. I didn't enjoy this second disc much as a stand alone listening experience as I had the first disc and the three discs in set 1.
Complete Takemitsu Edition 3 : Music For Movies 1 [1]
Disc 1 (STZ-27)

Twin Sisters of Koto : Part 1 (1963)
Twin Sisters of Koto : Part 2 (1963)
Twin Sisters of Koto : Part 3 (1963)
Twin Sisters of Koto : Part 4 (1963)
Twin Sisters of Koto : Part 5 (1963)
Alone on the Pacific : M1 (1963)
Alone on the Pacific : M2 (1963)
Alone on the Pacific : M3/3A (1963)
Alone on the Pacific : M4 (1963)
Alone on the Pacific : M5 (1963)
Alone on the Pacific : M6 (1963)
Alone on the Pacific : M7 echo (1963)
Alone on the Pacific : M8 (1963)
Alone on the Pacific : M10 (1963)
Alone on the Pacific : M12 (1963)
Alone on the Pacific : M12A (1963)
Alone on the Pacific : M13 (1963)
Alone on the Pacific : M14 (1963)
Alone on the Pacific : M16 (1963)
Alone on the Pacific : M19 (1963)
Alone on the Pacific : M20 (1963)
Alone on the Pacific : M21 (1963)
Alone on the Pacific : M22 (1963)
She and He : Part 1 (1963)
She and He : Part 2 (1963)
She and He : Part 3 (1963)
She and He : Part 4 (1963)
She and He : Part 5 (1963)
She and He : Part 6 (1963)
She and He : Part 7 (1963)
She and He : Part 8 (1963)
A Marvelous Kid : M0 (1963)
A Marvelous Kid : M1 (1963)
A Marvelous Kid : M1A (1963)
A Marvelous Kid : M2 (1963)
A Marvelous Kid : M3 (1963)
A Marvelous Kid : PS90 (1963)
A Marvelous Kid : M4 (1963)
A Marvelous Kid : M5 (1963)
A Marvelous Kid : M6 (1963)
A Marvelous Kid : M7 (1963)
A Marvelous Kid : M8 (1963)
A Marvelous Kid : M9 (1963)
A Marvelous Kid : M10 (1963)
A Marvelous Kid : M14 (1963)
White and Black / Pressure of Guilt : TOP1 FX (1963)
White and Black / Pressure of Guilt : M1 (1963)
White and Black / Pressure of Guilt : M2/FX2 (1963)
White and Black / Pressure of Guilt : M3 (Workmanship) (1963)
White and Black / Pressure of Guilt : M4 (1963)
White and Black / Pressure of Guilt : M5 (Mix 6) (1963)
White and Black / Pressure of Guilt : M6 (1963)
White and Black / Pressure of Guilt : M7 (Workmanship) (1963)
White and Black / Pressure of Guilt : M8 (1963)
White and Black / Pressure of Guilt : S122 FX (1963)
White and Black / Pressure of Guilt : M9 (Workmanship) (1963)
White and Black / Pressure of Guilt : S146 FX (1963)
Disc 2 (STZ-28)

Yves Klein Le Monochrome (1966)
Woman In The Dunes : Part 1 (1964)
Woman In The Dunes : Part 2 (1964)
Woman In The Dunes : Part 3 (1964)
Woman In The Dunes : Part 4 (1964)
Woman In The Dunes : Part 5 (1964)
The Assassin : TOP (1964)
The Assassin : 2A. OK (1964)
The Assassin : 3A. OK (1964)
The Assassin : M5 (1964)
The Assassin : M7 (1964)
The Assassin : DB-6, T-3 (1964)
The Assassin : DB-7 (1964)
The Assassin : DB-8A (1964)
The Assassin : DB-11A (1964)
The Assassin : DB-14 (1964)
The Assassin : DB-15 (1964)
The Assassin : Unknown-1 (1964)
The Assassin : Unknown-2 (1964)
Kwaidan : Part 1 (1965)
Kwaidan : Part 2 (1965)
Kwaidan : Part 3 (1965)
Kwaidan : Part 4 (1965)
Kwaidan : Part 5 (1965)
Pale Flower : M1 (1964)
Pale Flower : M2 (1964)
Pale Flower : M5D (1964)
Pale Flower : M6 (1964)
Pale Flower : M7 (1964)
Pale Flower : M8 (1964)
Pale Flower : M9 (1964)
Pale Flower : M echo attachment (1964)
Pale Flower : M12 (1964)
Pale Flower : M13 (1964)
Pale Flower : M14 (1964)