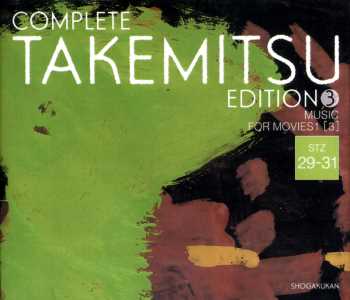 © 2006 Lawrence Tuczynski
CD Information courtesy of Rich Housh
Title
Complete Takemitsu Edition 3
Music For Movies 1 [3]
CD Label
Shogakukan Inc. & Toho Music Corp.
CD Number
STZ-29~31
Music by:
Toru Takemitsu
Number of tracks
Disc 1 : 54
Disc 2 : 54
Disc 3 : 38
Running time
Disc 1 - 64:31
Disc 2 - 63:38
Disc 3 - 60:28
Number of discs
3
Year of release/manufacture
2003
REVIEW

August 30, 2006

Toru Takemitsu (1930-1996) did film scores for 93 movies. These COMPLETE TAKEMITSU EDITION 3, Music For Movies sets give us many of these soundtracks. I have personally never seen the movies from this set so can not say how well the music interacts with what's on screen. My opinions will be based on stand alone listing.

Disc 1 starts out with some really nice piano music. Track 7 has some really weird sound effects mixed in that are hard to describe but fade in and out and also seem to have what sounds like car horns in the background. A little of this can be heard in track 8 also. Disc 1 is mostly lovely piano music until we get to Track 11 where "Nippon Escape" begins. We then have some action & suspense pieces sprinkled with sound effects and some of the more traditional sounding Japanese music found in many samurai type movies. When we get to "The Female Body" pieces the tempo changes over to something that reminds me of music you might hear on the French Riviera and then goes into some slower orchestral pieces. Tracks from "The Car Thief" reminded me of old Hollywood westerns and Tarzan movies. It also features a few jazzy pieces prominent with horns.Overall Disc 1 was a pleasant listening experience with a few tracks that are probably aided greatly by the visuals of the movie they appear in.

Disc 2 starts off with tracks from "Bwana Tosh" that are very African sounding and in some cases include native vocals. The "Last Judgement" tracks start off with a female vocal. It then goes into some music with what sounds like a harpsichord and harmonica. Then comes some more slow jazz sounding numbers. The "Extraordinary Sasuke Sarutobi / Samurai Spy" tracks are pretty much what you'd expect in a Samurai film. The "Beast Alley" tracks are very similar to the preceding Samurai tracks as are the tracks to the following section for "Yotsuya Ghost Story / Illusion Of Blood". The music finally changes when we get to the "Jose Torres II" tracks that have a Latin flavor to them. This second disc doesn't hold up as well as stand alone music and is probably better appreciated with the film visuals.

Disc 3 contains a variety of musical styles and parts of it hold up well as stand alone listening but probably a good half probably works better with the movie visuals. Track 19 contains a female vocal that sounds like it's sung in German. Track 22 & 23 are very short sound effects tracks.
Complete Takemitsu Edition 3 : Music For Movies 1 [3]
Disc 1 (STZ-29)

21-Year-Old Father / Our Happiness Alone (1964) : Part 1
21-Year-Old Father / Our Happiness Alone (1964) : Part 2
21-Year-Old Father / Our Happiness Alone (1964) : Part 3
21-Year-Old Father / Our Happiness Alone (1964) : Part 4
The White Dawn / Ako 16 Ans japonaise (1964) : S1
The White Dawn / Ako 16 Ans japonaise (1964) : S2
The White Dawn / Ako 16 Ans japonaise (1964) : S21-22 (T1)
The White Dawn / Ako 16 Ans japonaise (1964) : S15(twist rhythm)
The White Dawn / Ako 16 Ans japonaise (1964) : S21-22 (T2)
The White Dawn / Ako 16 Ans japonaise (1964) : S (rust?)
Nippon Escape (1964) : M1
Nippon Escape (1964) : M6
Nippon Escape (1964) : M9
Nippon Escape (1964) : M10
Nippon Escape (1964) : M12
Nippon Escape (1964) : M15
Nippon Escape (1964) : M16
Nippon Escape (1964) : M19
The Female Body (1964) : M1
The Female Body (1964) : M4A
The Female Body (1964) : M5
The Female Body (1964) : M8
The Female Body (1964) : M9
The Female Body (1964) : M10
The Car Thief (1964) : M1
The Car Thief (1964) : M2
The Car Thief (1964) : M4
The Car Thief (1964) : M5
The Car Thief (1964) : M6
The Car Thief (1964) : M7
The Car Thief (1964) : M8
The Car Thief (1964) : M11
The Car Thief (1964) : M12
The Car Thief (1964) : M14-2
The Car Thief (1964) : M15
The Car Thief (1964) : M19-1
The Car Thief (1964) : M21
The Car Thief (1964) : M22
The Car Thief (1964) : M23
The Car Thief (1964) : M25•26
The Car Thief (1964) : M27
The Car Thief (1964) : M31
The Car Thief (1964) : M32
With Beauty And Sorrow (1965) : M, TOP
With Beauty And Sorrow (1965) : M2
With Beauty And Sorrow (1965) : M3
With Beauty And Sorrow (1965) : M4
With Beauty And Sorrow (1965) : M5
With Beauty And Sorrow (1965) : M5B
With Beauty And Sorrow (1965) : M7B
With Beauty And Sorrow (1965) : M7C
With Beauty And Sorrow (1965) : M9
With Beauty And Sorrow (1965) : M10
With Beauty And Sorrow (1965) : M, END
Disc 2 (STZ-30)

Bwana Tosh (1965) : Part 1
Bwana Tosh (1965) : Part 2
Bwana Tosh (1965) : Part 3
Bwana Tosh (1965) : Part 4
Bwana Tosh (1965) : Part 5
Bwana Tosh (1965) : Part 6
Bwana Tosh (1965) : Part 7
Bwana Tosh (1965) : Part 8
Bwana Tosh (1965) : Part 9
Last Jugdement (1965) : M1
Last Jugdement (1965) : M2
Last Jugdement (1965) : M3
Last Jugdement (1965) : M4
Last Jugdement (1965) : M5
Last Jugdement (1965) : M6
Last Jugdement (1965) : M7
Last Jugdement (1965) : M8
Last Jugdement (1965) : M9
Last Jugdement (1965) : M9A
Extraordinary Sasuke Sarutobi / Samurai Spy (1965) : Part 1
Extraordinary Sasuke Sarutobi / Samurai Spy (1965) : Part 2
Extraordinary Sasuke Sarutobi / Samurai Spy (1965) : Part 3
Extraordinary Sasuke Sarutobi / Samurai Spy (1965) : Part 4
Extraordinary Sasuke Sarutobi / Samurai Spy (1965) : Part 5
Extraordinary Sasuke Sarutobi / Samurai Spy (1965) : Part 6
Extraordinary Sasuke Sarutobi / Samurai Spy (1965) : Part 7
Extraordinary Sasuke Sarutobi / Samurai Spy (1965) : Part 8
Beast Alley (1965) : M1
Beast Alley (1965) : M4
Beast Alley (1965) : M5
Beast Alley (1965) : M6
Beast Alley (1965) : M8
Beast Alley (1965) : M15
Beast Alley (1965) : M16
Beast Alley (1965) : M17
Beast Alley (1965) : M21
Beast Alley (1965) : M23
Yotsuya Ghost Story / Illusion Of Blood (1965) : Part 1
Yotsuya Ghost Story / Illusion Of Blood (1965) : Part 2
Yotsuya Ghost Story / Illusion Of Blood (1965) : Part 3
Yotsuya Ghost Story / Illusion Of Blood (1965) : Part 4
Yotsuya Ghost Story / Illusion Of Blood (1965) : Part 5
Yotsuya Ghost Story / Illusion Of Blood (1965) : Part 6
Yotsuya Ghost Story / Illusion Of Blood (1965) : Part 7
Yotsuya Ghost Story / Illusion Of Blood (1965) : Part 8
Yotsuya Ghost Story / Illusion Of Blood (1965) : Part 9
Yotsuya Ghost Story / Illusion Of Blood (1965) : Part 10
Yotsuya Ghost Story / Illusion Of Blood (1965) : Part 11
Yotsuya Ghost Story / Illusion Of Blood (1965) : Part 12
Yotsuya Ghost Story / Illusion Of Blood (1965) : Part 13
Yotsuya Ghost Story / Illusion Of Blood (1965) : Part 14
Jose Torres II (1965) : Part 1
Jose Torres II (1965) : Part 2
Jose Torres II (1965) : Part 3
Disc 3 (STZ-31)
Tracks : Title
01 - 15 : The Kii River
16 - 20 : Face Of Another
21 - 26 : Punishment Island
27 - 31 : Longing / Once A Rainy Day
32 - 38 : Rebellion