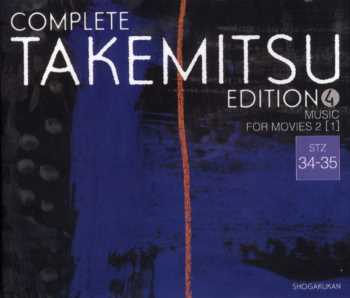 © 2006 Lawrence Tuczynski
CD Information courtesy of Rich Housh
Title
Complete Takemitsu Edition 4
Music For Movies 2 [1]
CD Label
Shogakukan Inc. & Toho Music Corp.
CD Number
STZ-34~35
Music by:
Toru Takemitsu
Number of tracks
Disc 1 : 67
Disc 2 : 54
Running time
Disc 1 - 65:55
Disc 2 - 74:28
Number of discs
2
Year of release/manufacture
2003
REVIEW

August 31, 2006

Toru Takemitsu (1930-1996) did film scores for 93 movies. These COMPLETE TAKEMITSU EDITION 4, Music For Movies sets give us many of these soundtracks. With the exception of "Dodes'kadan" which is an excellant movie by Akira Kurosawa, I have personally never seen the movies from this set so can not say how well the music interacts with what's on screen. My opinions will be based on stand alone listing.

Disc 1 one is a nice sounding disc with 67 tracks, most of which are very short cues. Some of the music in the first few tracks seemed very similar to the song "McArthur Park" sung by Richard Harris back in 1968. The "Dodes'kadan" music I have heard before and the soundtrack to that movie can be found in the 3rd Akira Kurosawa box set also on this site on the ak-0010 disc. Some music from that film can also be found on the % disc Kurosawa Box Set on Disc 4 AK-4 also on this site. I also liked the music on this CD to "The Earth Is Born". A few of them reminded me of music from the original "Planet Of The Apes" movie but others were sad violin pieces. Most of this first disc works well as a stand alone listening experience with the exception maybe of the tracks for "Silence".

While Disc 2 has it's moments, the majority of this disc doesn't work as stand alone music and would benefit greatly from hearing it while watching the films the tracks are from.
Complete Takemitsu Edition 4 : Music For Movies 2 [1]
Disc 1 (STZ-34)

The Man Who Left His Will On Film:Part 1
The Man Who Left His Will On Film:Part 2
The Man Who Left His Will On Film:Part 3
Dodes'kaden:M1
Dodes'kaden:M2
Dodes'kaden:M3+M4
Dodes'kaden:M6
Dodes'kaden:M13
Dodes'kaden:M14
Dodes'kaden:M16
The Earth Is Born Again:M1
The Earth Is Born Again:M6
The Earth Is Born Again:M7
The Earth Is Born Again:M8
The Earth Is Born Again:M8A
The Earth Is Born Again:M9
The Earth Is Born Again:M10
The Earth Is Born Again:M11
The Earth Is Born Again:M12
The Earth Is Born Again:M13
The Earth Is Born Again:M14
The Earth Is Born Again:M15
The Earth Is Born Again:M16
The Earth Is Born Again:M17
The Earth Is Born Again:M18
The Earth Is Born Again:M19
The Earth Is Born Again:M20
The Earth Is Born Again:M21
The Earth Is Born Again:M22A
The Earth Is Born Again:M24
The Earth Is Born Again:M25
The Ceremony:Part 1
The Ceremony:Part 2
The Ceremony:Part 3
The Ceremony:Part 4
The Ceremony:Part 5
Inn Of Evil:Part 1
Inn Of Evil:Part 2
Inn Of Evil:Part 3
Inn Of Evil:Part 4
Inn Of Evil:Part 5
Inn Of Evil:Part 6
Inn Of Evil:Part 7
Inn Of Evil:Part 8
Silence:M1
Silence:M2
Silence:M2A-T1
Silence:M3-T2
Silence:M4-T2
Silence:M5
Silence:M6-T2
Silence:M7-T2
Silence:M8
Silence:M9
Silence:M10
Silence:M11-T2
Silence:M12-T2
Silence:M13
Silence:M14
Silence:M15
Silence:M16
Silence:M17
Silence:M19
Silence:M20-T2
Silence:M21-T4
Silence:M22-T4
Silence:M23-T2
Disc 2 (STZ-35)

Summer Soldiers:Part 1
Summer Soldiers:Part 2
Summer Soldiers:Part 3
Summer Soldiers:Part 4
Summer Soldiers:Part 5
Summer Soldiers:Part 6
Summer Soldiers:Part 7
Summer Soldiers:Part 8
Dear Summer Sister:Part 1
Dear Summer Sister:Part 2
Dear Summer Sister:Part 3
Dear Summer Sister:Part 5
Time Within Memory:Part 1
Time Within Memory:Part 2
Time Within Memory:Part 3
Time Within Memory:Part 4
Time Within Memory:Part 5
Time Within Memory:Part 6
Time Within Memory:Part 7
Time Within Memory:Part 8
Time Within Memory:Part 9
Time Within Memory:Part 10
Time Within Memory:Part 11
Time Within Memory:Part 12
The Forest Of Fossils:Part 1
The Forest Of Fossils:Part 2
The Forest Of Fossils:Part 3
The Forest Of Fossils:Part 4
The Forest Of Fossils:Part 5
The Forest Of Fossils:Part 6
The Forest Of Fossils:Part 7
The Forest Of Fossils:Part 8
The Forest Of Fossils:Part 9
The Forest Of Fossils:Part 10
The Forest Of Fossils:Part 11
The Forest Of Fossils:Part 12
The Forest Of Fossils:Part 13
The Forest Of Fossils:Part 14
The Forest Of Fossils:Part 15
The Forest Of Fossils:Part 16
Himiko:Part 1
Himiko:Part 2
Himiko:Part 3
Himiko:Part 4
Himiko:Part 5
Happiness:Part 1
Happiness:Part 2
Happiness:Part 3
Happiness:Part 4
Happiness:Part 5
Happiness:Part 6
Happiness:Part 7
Happiness:Part 8
Happiness:Part 9