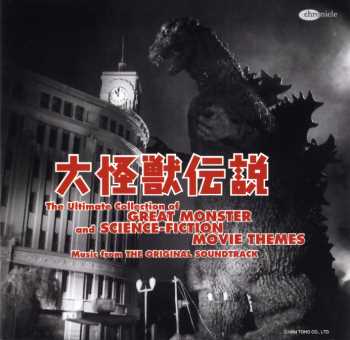 © 2005 Lawrence Tuczynski
| | |
| --- | --- |
| Title | The Ultimate Collection Of GREAT MONSTERS and SCIENCE-FICTION Movie Themes |
| CD Label | Chronicle/Toho |
| CD Number | TECD-25517 |
| Music by: | Various |
| Number of tracks | 37 |
| Running time | 74.29 |
| Number of discs | 1 |
| Year of release/manufacture | March 24, 2005 |
REVIEW

March 28, 2005

This is a good sounding CD that is pretty much a good sampler of many of the Toho movies in this genre produced from the first Godzilla in 1954 until the second coming in 1984, 30 years worth of music. All of the movies listed get one track except for "The Last War" and "Godzill vs The Smog Monster" which get two tracks each for some reason. Most of the tracks are main titles, but LAST WAR also adds the "Overture" (which comes before the main title), and SMOG MONSTER is represented by the "Opening" and "Give Back the Sun" (since the film doesn't technically have a main title). The music here is clear and clean and if you don't already have much of this music or are looking to add a good sampler disc to your collection, go ahead and buy it.If you already own much of this music, there really isn't anything on this disc you haven't heard before.
The Ultimate Collection Of GREAT MONSTERS and SCIENCE-FICTION Movie Themes
GODZILLA King Of The Monsters
GIGANTIS, THE FIRE MONSTER
RODAN
THE MYSTERIANS
THE H-MAN
VARAN THE UNBELIEVABLE
THE THREE TREASURES
BATTLE IN OUTER SPACE
SECRET OF THE TELEGIAN
THE HUMAN VAPOR
MOTHRA
THE LAST WAR
THE LAST WAR (2)
GORATH
KING KONG VS. GODZILLA
MATANGO
ATRAGON
GODZILLA AGAINST MOTHRA
DOGORA THE SPACE MONSTER
GHIDRAH THE THREE-HEADED MONSTER
FRANKENSTEIN VS. BARAGON
INVASION OF ASTRO MONSTER
WAR OF THE GARGANTUAS
GODZILLA VS. THE SEA MONSTER
KING KONG ESCAPES
SON OF GODZILLA
DESTROY ALL MONSTERS
LATITUDE ZERO
GODZILLA'S REVENGE
YOG, MONSTER FROM SPACE
GODZILLA VS. THE SMOG MONSTER
GDZILLA VS. THE SMOG MONSTER (2)
GODZILLA ON MONSTER ISLAND
GODZILLA VS. MEGALON
GODZILLA VS. THE BIONIC MONSTER
REVENGE OF MECHAGODZILLA
GODZILLA '84
Tracks 5, 11~14 & 37 are STEREO. The rest are Mono.