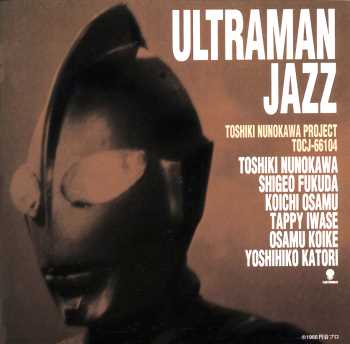 © 2006 Lawrence Tuczynski
All info & scans on this page courtesy of John M. Emmons
| | |
| --- | --- |
| Title: | Ultraman Jazz |
| CD Label: | Toshiba-EMI Limited |
| CD Number: | TOCJ-66104 |
| Music by: | Toshiki Nunokawa Project |
| Number of tracks: | 11 |
| Running time: | 67:22 |
| Number of discs: | 1 |
| Year of release/manufacture: | February 21,2001 |
REVIEW

February 7, 2006

Review by John M Emmons

Like Ultraman Symphony, Ultraman Jazz takes the familiar themes from the Ultraman series but instead of giving them the bombastic treatment of a full-scale orchestra, the themes are played by a melodic and mellow jazz band.

Most of the material from this album focuses on the first three series: the original Ultraman, Ultra Seven, and Return of Ultraman with only a few exceptions like Ultra Q and Ultraman Leo. I thought that most of these themes were still pretty recognizable despite the jazz makeover and made for pretty catchy songs.

The only problem I have with this album is that there's less variety. Three of the songs are repeated on the album when more obscure themes or themes from other series could have been used.

The great thing about this album is that you don't have to be a hardcore Ultraman fan to like it. If you liked Godzilla Jazz or just a casual jazz fan, then this album might interest you. There is also a "sequel" album: Return of Ultraman Jazz.
Title: Ultraman Jazz
Translations courtesy of Jolyon Yates
Ultraman Song
Ultraseven Song
Special Search Squad Song
Ultraman Leo
Ultra Q Theme
MAT Team Song
Advance, Ultraman!
Return of Ultraman
Ultraman Song (Reprise)

bonus tracks

Ultraseven Song (alternative take)
Special Search Squad Song (alternative take)