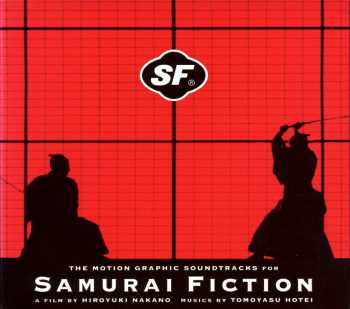 © 2007 Lawrence Tuczynski
| | |
| --- | --- |
| Title: | The Motion Graphic Soundtracks For Samurai Fiction |
| CD Label: | SF |
| CD Number: | TOCT-10200 |
| Music by: | Tomoyasu Hotei |
| Number of tracks: | 15 |
| Running time: | 46:17 |
| Number of discs: | 1 |
| Year of release/manufacture: | July 29, 1998 |
| Year of movie release: | August 01, 1998 |
REVIEW

October 11, 2007

There seems to be some confusion on when this CD was released. All the web sites I found list the release date as 7-29-1998 while the back of the CD shows 7-29-1997. The music here is interesting with several tracks having an infectious drum rythmn. I enjoyed the CD and I think it holds up well as a stand alone listening experience but was somewhat surprised. With a title like "Samurai Fiction" I was expecting a lot of fast action music and what's here is just the opposite. Most of the music here is slow or mid tempo and quite mellow. Track 4 sounds a lot like a slow instrumental version of the song "Hello Dolly". Track 6 is slow and spacey and reminds me somewhat of something Pink Floyd might do. Track 11 starts out sounding like an old time traditional Japanese sound, like someting from a Zatoichi film, and then goes spacey and dreamlike (must be the Zen Trip part). Track 12 has a nice bass line with finger snapping and is jazzlike. Reminded me of the Roger Miller song "King Of The Road". The last track is a slow vocal track.

For a description of the movie on ImDB see: http://www.imdb.com/title/tt0170544/ . Sounds interesting. Sort of like the US "Kill Bill" movies.
The Motion Graphic Soundtracks For Samurai Fiction
Tracks titles are a courtesy of Jolyon Yates.
Transnational Spirit
Samurai Fiction Theme
Foreboding
Love Song (Koharu's theme)
Katana Groove
Song of the Darkness (Kazamatsuri's Theme)
Boys on the Run
Samurai Fiction Theme (Lounge Version)
Dance With me (Okatsu's Theme)
Forest Song (Heishiro's Theme)
Accompaniment ~ Zen Trip
Sea Ballad (Gosuke's Theme)
Samurai Fiction Theme (Accordion version)
Prayer
Save Me