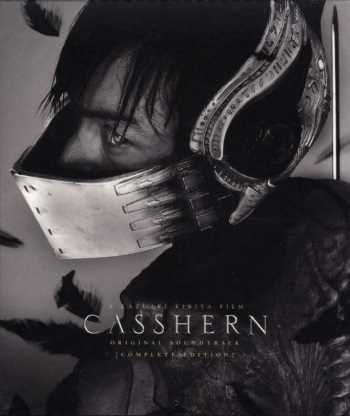 © 2007 Lawrence Tuczynski
Title:
CASSHERN - Original Soundtrack [Complete Edition]
CD Label:
Toshiba-EMI
CD Number:
TOCT-25527~8
Music by:
Shiro Sagisu
Tomohiko Gondo (tracks 11,13,19)
Yuichiro Honda (track 14)
Tomohiko Gondo & Yuichiro Honda (track 12)
Number of tracks:
Disc 1 - 10
Disc 2 - 10
Running time:
Disc 1 - 41:04
Disc 2 - 44:56
Number of discs:
2
Year of release/manufacture:
October 20, 2004
Year of movie release:
April 24, 2004
REVIEW

October 12, 2007

I have never seen this movie. For a plot summary visit ImDB at: http://www.imdb.com/title/tt0405821/plotsummary.

This 2 CD set is supposedly the complete edition of the original soundtrack unlike the other Casshern CD on this site TOCT25301~2. Hopefully the music works better in the movie than as a stand alone listening experience. The music wasn't bad but just did not stand out for me. The music on Disc 1 is very slow, sullen and somewhat dreary and repetitious. Disc 2 starts off with what sounds like a rock track followed by a track reminiscent of church music. Track 3 & 4 are fast paced hard rock sounding tunes. Track 5 is a slow, dreamlike sounding tune. Track 6 is another rock influenced track, mid tempo and sounds pretty good. Tracks 7 - 9 are slow and dreamlike. The final track is a beautiful, slow, piano track.

Updated October 24, 2007

Last night I rented an English subtitled DVD of this movie. The photography in this movie is amazing. The color scenes are very bold and colorful while the black and white scenes offer stark contrast and clearly depict dread and hopelessness those scenes depict. While I still say the music doesn't work as a stand alone listening experience, it does work very well with the images in the movie.
CASSHERN - Original Soundtrack [Complete Edition]
Tracks titles from Sound Collector web site at: http://www.soundtrackcollector.com/catalog/soundtrackdetail.php?movieid=66345.
DISC 1

Kohai (Scene #03) (04:32)
Anei (Scene #12) (03:12)
Taido (Scene #14) (03:25)
Kikan (Scene #16) (02:19)
Memai (Scene #22) (04:04)
Senko (Scene #34) (02:47)
Shini (Scene #40) (04:49)
Dobo (Scene #43) (02:37)
Kido (Scene #51) (06:15)
Fukkatsu (Scene #65) (07:04)

DISC 2

Asioto (Scene #72) (02:04)
Inori (Scene #81) (04:26)
Inga (Scene #94) (04:05)
Sakudo (Scene #104) (02:43)
Genei (Scene #117) (04:27)
Sakebi (Scene #138) (05:05)
Kioku (Scene #149) (03:27)
Rinne (Scene #153) (05:16)
The Last Day (Scene #156) (06:50)
Arishi Hi Ni Mita Tsukiduki No Youni - MOONLIGHT (Extra Track) (06:33)