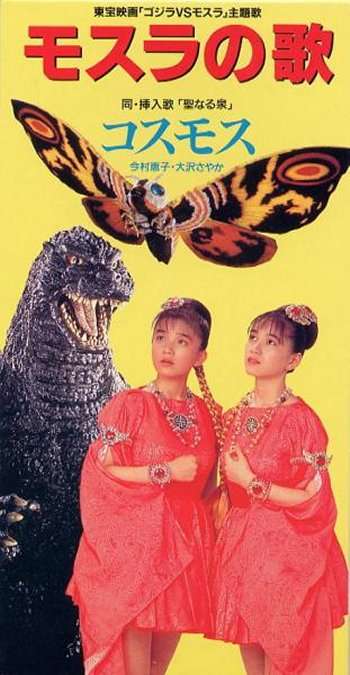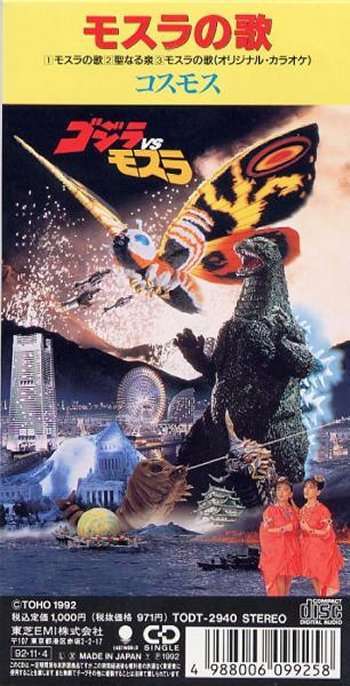 © 2001 Lawrence Tuczynski
Title:
Godzilla vs. Mothra
Japanese Title:
Gojira Tai Mosura
Movie also known as:
Godzilla & Mothra: The Battle For Earth
CD Label:
Futureland / Toshiba EMI Japan
CD Number:
TODT-2940
Music by:
Akira Ifukube
Number of tracks:
3
Running time:
7:48
Number of discs:
1
Year of release/manufacture:
1992
Year Movie Released in Japan:
1992
Year Movie Released in U.S. (Video):
1998
DVD Released in U.S.:
Double DVD, Columbia/Tri-Star #03132, Nov.1998
Also has 1991 "Godzilla vs. King Ghidorah"
REVIEW

August 26, 2001

This is a very rare 3 song 3" single that features the Mothra songs sung by the twins. The recordings are in stereo and sound great. This disc is the ONLY place you can find Track # 3, the instrumental version of the Mothra song in stereo. I always enjoyed the Mothra songs by the various sets of women that have performed them and this is no exception. I was fortunate enough to win this prize on eBay and haven't seen it anywhere else. If you can find a copy it's certainly worth grabbing because of the music and unique packaging. The pictures above show both the front and back cover.
U.S. Title: Godzilla Versus Mothra
Japanese Title: Gojira Tai Mosura
Mothra's Song
The Sacred Fountain
Mothra's Song (Instrumental)