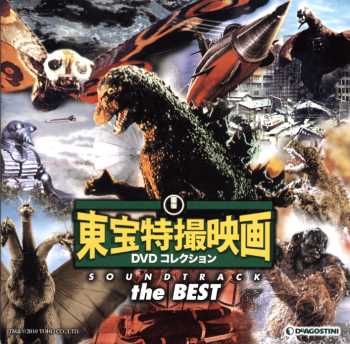 © 2010 Lawrence Tuczynski
| | |
| --- | --- |
| Title | Toho Special Effects Movie DVD Collection Soundtrack The Best |
| CD Label | DeAgostini/Toho Music Corporation |
| CD Number | TTD-G007 |
| Music by: | Various |
| Number of tracks | 28 |
| Running time | 75:14 |
| Number of discs | 1 |
| Year of release/manufacture | May 25, 2010 |
REVIEW

August 05, 2010 Updated September 05, 2011

Playing this CD so far the sound is good. The CD is limited to 1000 copies. This CD is a compilation of 27 of the best original soundtrack themes from Toho's special effects film catalog. In addition, it contains a bonus track of the MONSTER ZERO March recorded live. Grab this future collectors item while it's available, especially if you are looking for a greatest hits package. The CD is currently available through Arksquare (www.arksquare.net ), though their price is $45.50, plus shipping to the U.S. which is between $15-$20.

UPDATE: September 02, 2013

This CD as well as Vol. 2 and Vol. 3 are out of print now and hard to find..
Track listing courtesy of Sci-Fi Japan at:
http://www.scifijapan.com/articles/2010/07/08/koichi-kawakita-pitches-new-godzilla-collectibles/
Toho Special Effects Movie DVD Collection Soundtrack The Best
GODZILLA VS MECHAGODZILLA - Godzilla's Theme (M40) 3:20
KING KONG VS GODZILLA - Godzilla Revives (M10) 1:42
INVASION OF ASTRO-MONSTER - Monster Zero March (M23) 3:06
TERROR OF MECHAGODZILLA - Godzilla Appears (M19) 1:45
GODZILLA VS. MECHAGODZILLA - Godzilla vs Angilas (M9) 2:28
SUBMERSION OF JAPAN - Ending (M28) 1:56
GODZILLA VS HEDORAH - Return, The Sun! (PS25+38) [Sung by Keiko Mari] 2:35
LATITUDE ZERO - Main Title (M1T2) 3:06
DESTROY ALL MONSTERS - Main Title (M1+M2T4) 2:01
SON OF GODZILLA - Godzilla vs Kumonga (M32) 2:20
GODZILLA VS THE SEA MONSTER - Setting Sail for Letchi Island (M20) 1:44
GHIDORAH THE THREE-HEADED MONSTER - Earth's Greatest Decisive Battle (M21) 1:40
WAR OF THE GARGANTUAS - L-Strategy March (M12T2) 3:51
MOTHRA VS GODZILLA - Mothra's Departure (M18) 2:37
ATRAGON - The Undersea Battleship Test (M15+16+17) 4:11
GORATH - South Pole Base Construction (M16) 2:29
MOTHRA - Mothra's Song [Sung by The Peanuts] 2:14
MATANGO - Opening/Main Title (M1+2) 1:47
THE H-MAN - Main Title (M1T1) 2:36
THE SECRET OF TELEGIAN - Lightning Speed Telegraph Man (M12) 1:35
THE HUMAN VAPOR - Closing (M28) 2:52
VARAN - Varan Comes To Haneda (TV13) 3:00
RODAN - Pursue Rodan! (M10+15) 2:30
BATTLE IN OUTER SPACE - Battle In Outer Space March (M32) 2:51
THE MYSTERIANS - Earth Defense Force March (The First Battle) (M10) 5:32
GODZILLA RAIDS AGAIN - Main Title (M1 S.E.mix) 1:37
GODZILLA - Main Title (M2+M1) 2:09

BONUS TRACK

Monster Zero March [LIVE] 2:40
(From the Second Akira Ifukube Music Festival Main Concert)