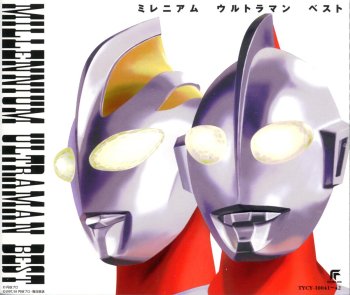 © 2002 Lawrence Tuczynski
Title
Millennium Ultraman Best
CD Label
Toshiba-EMI Limited
CD Number
TYCY-10041~42
Music by:
Various
Number of tracks
Disc 1: 24
Disc 2: 16
Running time
Disc 1: 61:24
Disc 2: 67:35
Number of discs
2
Year of release/manufacture
2000
REVIEW

January 5, 2002

This 2 CD set is a "Best Of" from the various incarnations of Ultraman. These are pretty much all vocal tracks and not background soundtrack instrumentals. If you are a big Ultraman fan then this set is probably a must have for you. I am one of those who can take or leave Ultraman but found some of the tracks engaging and fun. Overall not a bad CD and with both discs running over an hour each you'll certainly get your money's worth.
English Title: Millennium Ultraman Best
Translations courtesy of Jolyon Yates!
Disc 1
ULTRA Q (1m24s)
Giant Monster Song (1m40s)
Ultra March (1m59s)
Ultraman's Song (1m53s)
Special Search Squad's Song (2m16s)
Advance, Ultraman! (2m14s)
Ultra Seven's Song (2m06s)
Ultra Guard's Song (1m26s)
ULTRA SEVEN (1m48s)
Ultra Boy's Song (1m36s)
RETURN OF ULTRAMAN (2m59s)
Monster Chorus (4m19s)
ULTRAMAN ACE (2m43s)
TAC's Song (3m33s)
ULTRAMAN TARO (2m33s)
6 Ultra Brothers (2m15s)
Ultra Mother's Ballad (3m50s)
ULTRAMAN LEO (2m44s)
Fight, Ultraman Leo! (2m23s)
MAC's March (2m10s)
Starry Sky Ballad (3m19s)
THE ULTRAMAN (2m22s)
ULTRAMAN 80 (2m54s)
Come On Ultraman 80 (3m30s)
Disc 2
ULTRAMAN POWERED (4m23s)
Somewhere in This Universe (5m3s)
Starlight Fantasy (4m38s)
Ultraman Neos (4m38s)
Ultra Seven 2-1 (4m25s)
Take Me Higher (5m19s)
ULTRAMAN DYNA (4m8s)
Protection for Only You (4m28s)
Flash Moment (4m16s)
In A Miraculous Wind (3m55s)
In Dyna's Red Light (3m36s)
Take Off, Super GUTS!! (2m55s)
ULTRAMAN GAIA! (3m52s)
Lovin' You Lovin' Me (4m23s)
Gaia Power (3m18s)
Ultraman Nice (3m18s)